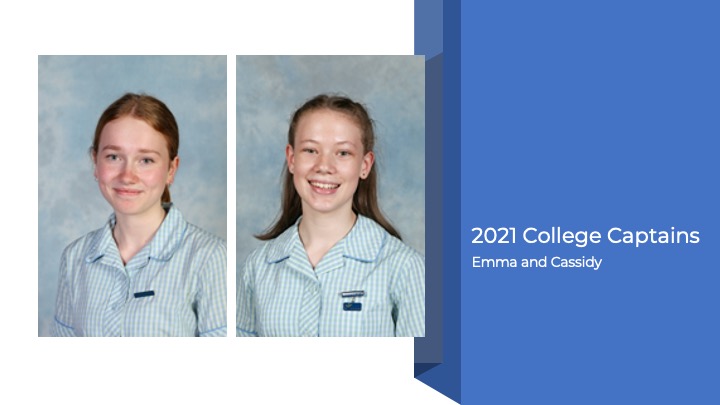 For a long time, I thought leaders had to be fearless.  But now, I know that true courage comes not from doing things without fear, but from doing things in spite of it.

As a College leader, I would not only work to continue what the previous leaders have achieved, but listen to your views and opinions on how we can enhance this great community even more.

After spending so much of 2020 apart, we need to make sure everyone feels supported and despite the challenges we all might have….that anything is possible.

I will be determined in making Mater Christi a community where everyone feels they belong and is accepted
After so many fine speeches and again following today's presentation to the College community, it makes us all proud as we celebrate and acknowledge the great potential and huge commitment of our student leaders for 2021. I wish each of these students every success in their final year of study and leadership.
Congratulations to the following Captains of:
College: Cassidy Ede, Emma Gerber
Faith and Liturgy: Sasha Hundle, Imasha Nonis
Social Justice & Stewardship: Ella Lancaster, Ebonni Sidotti
Arts: Jessica Chapman, Stephanie Williams
Sport: Hannah Hodges, Jennifer Sahely
STEM: Cassidy Germano, Bronya Robinson
International: Jacqueline Mei, Selina Yin
Chisholm House: Gabrielle Sard; Assistant – Sienna Reeves
Gibbons House: Bailey Caldow; Assistant – Maudie Peterson
Lyons House: Ella Liebler; Assistant – Meg Groeneveld
Mackillop House: Gabriella Petersen; Assistant – Matilda McDermott
Also presented at College Assembly today, were those students who will receive the General Excellence Scholarship: Ariella Berton, Zara Cumming, Bethany Koster,
Sami Lane, Simone Martin, Elisa Morales, Charli Petersen & Emily Tyquin.
Congratulations to these students.  We acknowledge the commitment and courage of all the students who participated in the exam selection process.  They are all strong and courageous learners, and I trust that they will continue to seek to do and achieve of their best.
Finally, despite lockdown days, students have enjoyed some amazing co-curricular activities, with points being awarded to Houses as so many have participated in events galore for SoJust, Science,  STEM and Mater Day events:
Daily quizzes, Chalk art, Marine Team Virtual Performance, e-Meetings with Biomedical Scientists, Virtual Scavenger Hunts, Education Perfect Global Science Championships (First time for Mater Christi, and 7th place amongst 277 schools!), Recycled Materials Art Challenge, Environmental Photography Challenge, Sustainable Cookery Challenge, Create your own re-usable mask, Science Experiments for home, STEM Hub Challenges, Magic Eyes, Video Performances for HPAC.
It is hard to imagine that students could be busier, more inventive and more creative while learning online!  With such high levels of participation, it's anyone's House Cup this year!
And so, I hope that all students and their families as well as staff enjoy some respite over the term break ahead, with spring days boosting our spirits as much as the hope of a lessening of restrictions soon. Certainly we are looking forward to school attendance days next term and new opportunities for our College community to 'shine its light for others',
Mary Fitz-Gerald
Principal