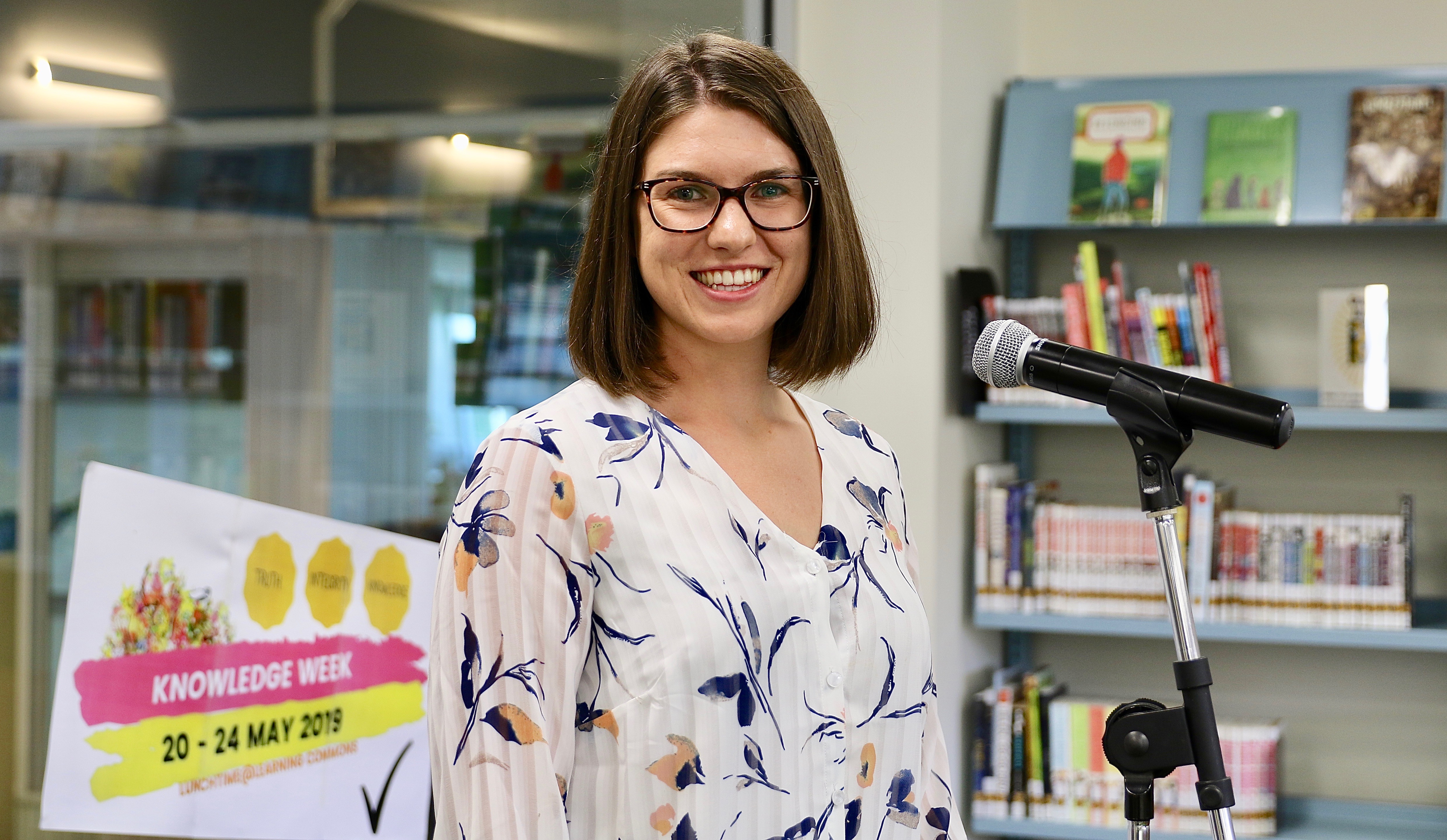 Rochelle Kirkham graduated from Mater Christi in 2014. She now works as a journalist at The Courier, a daily newspaper in Ballarat. Rochelle recently spoke to students about truth and integrity in journalism.
Throughout school I always loved writing, reading and telling stories.
After leaving Mater Christi, I studied Journalism at RMIT and did work experience at Japan's biggest English-speaking newspaper, The Japan Times as well as The Courier newspaper in Ballarat.
During my last year of university, I worked as a journalist at the Hepburn Advocate, a weekly newspaper covering Daylesford and the surrounding areas.  I was the only journalist working at the paper, choosing all of the stories, writing and putting the paper together with so much independence – it was an amazing experience.
When I finished my journalism course, I was offered a full-time job at The Courier.
A typical day for me starts with our morning meeting at 8.30am, where we pitch three new ideas each day. We then research those ideas, set up interviews and photos and sometimes write up to five stories throughout the day.
Each journalist covers what we call a round; for example, police, court, council and infrastructure. My role is social justice and environment, which is fitting as I was the Social Justice and Environment Captain at Mater Christi in Year 12.
I write a lot of stories about homelessness, family violence, food insecurity, housing struggles and environmental issues, including the great things people in our community are doing to create change.
I feel a lot of responsibility and power as a journalist. My work has the power to inform, educate, open people's minds to new ideas, and highlight issues that can lead to change. A recent example of how journalism can create change is the ABCs investigations into the treatment of the elderly in aged care facilities that played a part in the establishment of a royal commission into aged care. Knowledge has the power to improve society.
Integrity is the quality of being honest and having strong moral principles. As a journalist, when people read my stories, they trust that I have done the research and investigation to be sure what I am presenting is true.
The five core values of journalism are truth and accuracy, independence, fairness and impartiality, humanity and accountability. That means we work to ensure our facts have been checked and when we cannot verify information, we say so. It also means we write for no one else's benefit but our readers, we show two sides to the story and we aim to do no harm.
I believe one of my strengths is my sense of compassion and empathy. To tell a human story requires a deep sense of understanding and an ability to listen without judgement. For example, when I am telling stories about homelessness and speaking to people about their lives, my role is not to judge the choices they have made, but to listen and understand the difficulties and complex factors that are at play. Hopefully then, the story can change people's perceptions of homelessness and encourage them to understand and show compassion too.
One of the messages from Knowledge Week this year is how important it is to seek help to make sure what you are reading online is true and factual. It is becoming ever more difficult to seek out accurate and reliable information in an online sphere flooded with content. Readers and information seekers rely on journalists for a reliable, honest, and accurate source of news. At school, the library can be a valuable place to look for the information you need and be sure what you are reading is reliable.
Just as a journalist must act with integrity in the online world, everyone has a responsibility as distributors of information online to be honest and ethical, whether that be on your social media accounts or on your personal blogs.
I'm sure you have all heard of 'fake news'. On a personal level, spreading fake news can be damaging and hurtful. But on a wider community and global level, spreading false information can disrupt conversation and at the extreme it can impact on democratic processes, including elections. In this world where fake news is rife it is important to adopt a questioning attitude to what you read and hear and be aware of your own personal bias - this is something I have to do every day in my job.
When reading information online you should consider:
What type of content is it? E.g. social media, news, opinion - you may need to question what you are reading on social media more than a reliable news source.
Where is it published? Are a wide variety of sources giving it credit?
Your own bias. E.g. are you more likely to believe something because you want it to be true? Also think about who might benefit from you believing the content.
I truly believe good journalism can make the world a better place.
I would like to leave you with this quote - "journalism is what maintains democracy. It is the force for progressive social change."
Rochelle Kirkham, Alumna (2014)