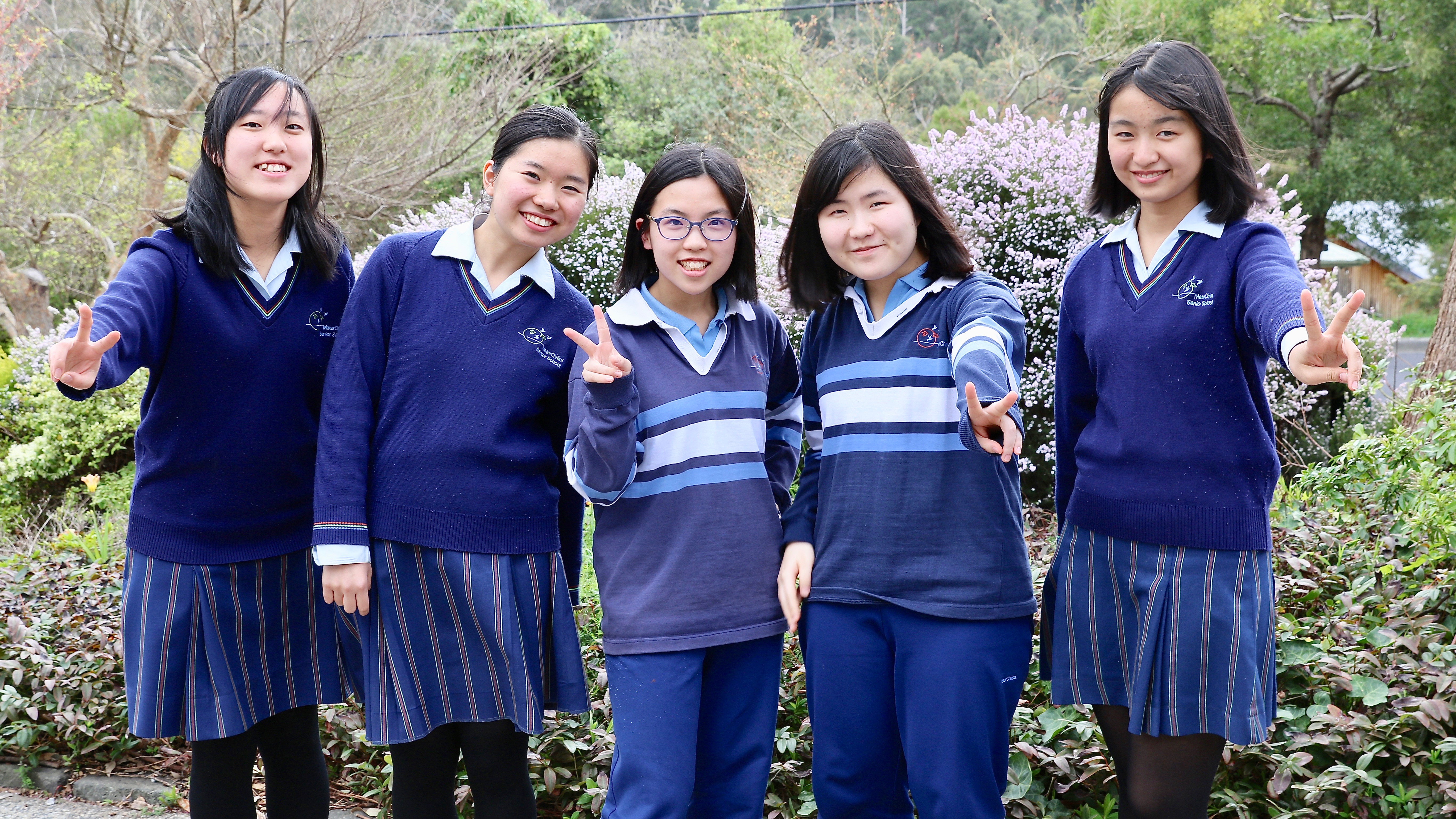 During Term 3, Mater Christi and five generous families have had the pleasure of hosting five exchange students from Japan - Rinko, Eri, Yuki, Moe and Rina.
They have been a wonderful addition to our community and we have enjoyed having them immensely.  The girls spoke at our recent College Assembly, reflecting on their time here and what they have gained from the experience.  This is what they had to say:
Rinko: In coming to Australia, our purpose was not only to improve our English skills but also to have precious experiences which we could never do if we spent an ordinary summer in Japan. We can visit Australia as a trip anytime, but we can only visit here as exchange students during our school days. Even though we were excited to come here we still needed lots of courage!
Eri: I stayed at Cassidy's home for three months. I enjoyed a lot and learned from her and her generous family. However, some things were difficult for me. The biggest problem was communication. At first, I couldn't understand what they said very well. For example, when I arrived here, my host mother said, 'How is the weather in Japan? I heard it is over 30 degrees.' I could only understand the word '30', but I thought she said, 'Are you thirsty?' So, I answered, 'Yeah, I'm thirsty.' Then she brought me a glass of water. That was really funny.
Communication continued to be a challenge. We were confused about Australian slang. For example, when you say 'Oi', you mean 'Hey you.' We were surprised because this has exactly the same meaning and pronunciation in Japanese.
During my stay, I noticed that the most important thing in communication is never to forget to smile. I was very nervous about creating a relationship with my host family, but I tried not to forget to smile. If you have a chance to go where nobody knows you, don't forget to smile. It will help you create positive relationships.
Yuki: Before I came here I only learned formal English conversation at school. My Japanese teachers taught me that when people say, "How are you?"you have to respond, "I'm fine thank you, and you?" However, I did not know colloquial expressions, such as 'reckon' and 'weird', and people talk much faster than I expected… so I found it very difficult to understand people's everyday chat. However, thanks to the hospitality of my friends, teachers and host family, I am beginning to understand what people are saying, and I am having such a great time here!!!
I hope, if you find it difficult to communicate with other people, you do not hesitate and try!All in all my Japanese summer has been a great chance to create the best Australian memories. I will miss you sooo much!!! Thank you very much for everything!!
Moe: When I came here I was surprised because there were many differences between Australian school and Japanese school. One of the big differences is school rules. In Japan most schools do not allow students to use electronic devices. For example, in my school we cannot use phones, even on the  way to school, we can only use them when it's an emergency.  So it was a surprise for me to be able to use laptops during the class. I think in Japan we should adopt laptop usage at school.
At our school there are 7 periods a day. Each class is 45min long. We sit in our homeroom class at 8:15 and morning assembly will start. Classes start at 8:45am so that's the same as here. We use electronic blackboards. In Japan most schools don't have recess. Our lunch time starts at 12:00 until 12:50. Classes end at 3:25 but that's not the end.  We then have homeroom and cleaning time, so normally school is finished at 4:00. If there are club activities most finish at 6.00pm. In my school there are 39 different club activities.
Rinna: Time has passed really fast and our experience in Australia is coming to an end. I just want to say two things. The first thing is please visit Japan! Australia is a wonderful country and we really like the environment, full of nature and animals, but our home country Japan is also a nice place to visit! It would be a great experience to study or sightseeing in Japan.
The second thing is, whether you had a connection with us or not, all of the students and teachers in the Mater Christi community helped us and supported us. If we didn't have your help we would not have been able to have a fun time and complete this Term. We want to say "Arigato", thank you, to all of you. This experience at Mater Christi will be the most unforgettable, precious, and wonderful thing in our life. We would love to stay but our Japanese school won't let us… (joke) and so we must return. We hope to see you all in the future.
Arigatogozaimashita!!