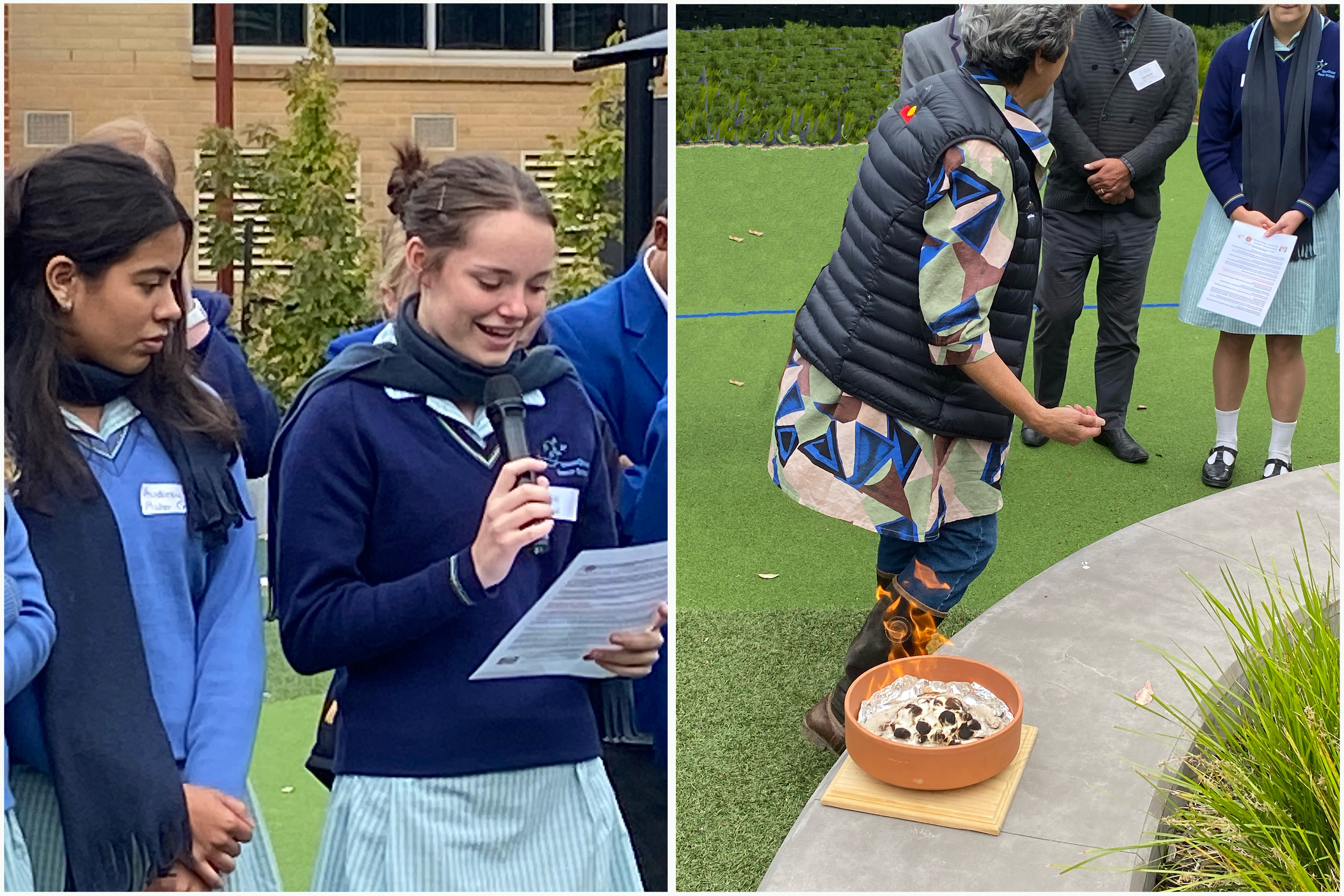 On 9 March, six students and three staff attended Sienna College in Camberwell to be commissioned into the FIRE Carriers group - Friends Igniting Reconciliation through Education.
FIRE carriers share a passion for learning about Aboriginal culture and history and are committed to sharing this knowledge and promoting reconciliation within and beyond the school community. There are over 60 Victorian schools already participating in this initiative.
Aunty Vicki Clark performed a ritual with the warmth of the fire to invite our staff and students to become "Reconciliation in human form" - inspiring them to carry the fire back to the College.
The group hopes to create opportunities to embed the richness of our country's ancient culture into our College life, and were given a symbol of the flame to bring back to Mater Christi, which we will display in a prominent position. They will also be connecting with and supporting the Opening the Doors Foundation, which provides books, uniforms and educational resources for Koorie children.
FIRE Carrier meetings will run every Wednesday in (C202), and all students are welcome.
Our official FIRE Carriers are staff members, Naomi Trumino, Amy Isma and Con Sarris along with students, Hannah Koolstra, Isabella Lancaster, Audrey Thomas, Keely O'Brien, Annabella Tyquin and Elida Liccardi.
Here is what some of the students had to say:
Meeting students and staff from other FIRE Carrier schools was thought provoking and inspiring. Seeing what others have done gave us many ideas to bring back to Mater Christi and a direction for our future as a FIRE Carrier. We learnt how other Catholic schools across Victoria have implemented initiatives that aid in the reconciliation of Indigenous Australians - with the guidance of Auntie Vicki, who commissioned MCC's first fire carriers!
Elida Licciardi and Hannah Koolstra
We really enjoyed having the opportunity to connect with other FIRE Carrier Schools, and have deep, meaningful conversations on how we can commit ourselves to reconciliation. We look forward to collaborating with them to organise future events, fundraisers, and opportunities to promote Indigenous awareness across the community.
Keely O'Brien and Annabella Tyquin