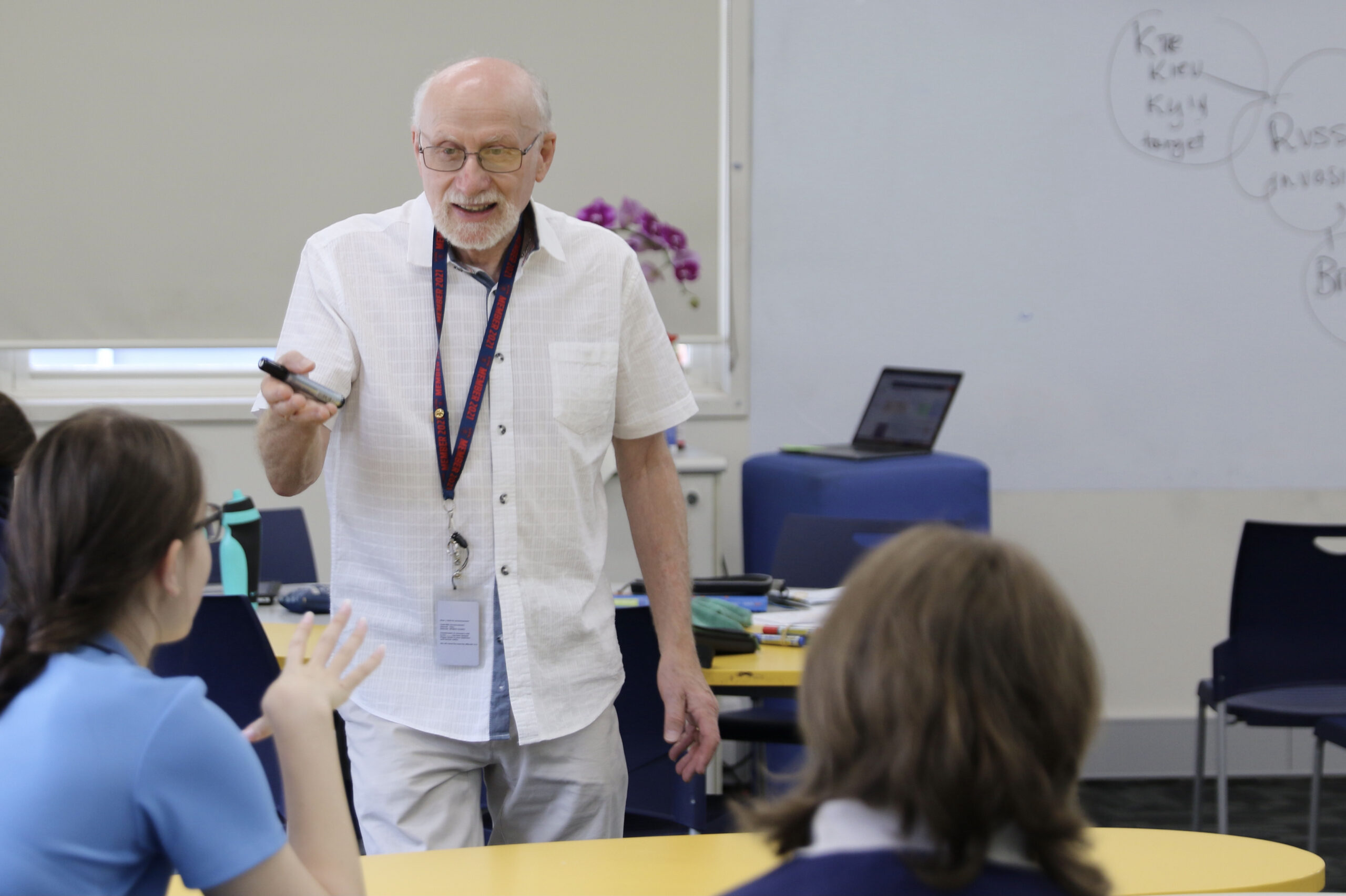 For 47 years, Peter has taught students about the past, in order to help them understand their world, and bring about future change. His passion for teaching shines through in his classrooms and his messages remain with students, well into their lives beyond Mater Christi.
Teaching has been a constant love in Peter Kadar's life. "As early as Year 11, I developed a desire to teach".
Peter was inspired by several teachers of his own, who not only triggered his strong interest in History and Politics, but also modelled values such as Honesty, Integrity, Tolerance and Fairness.
Peter says he wanted a job that was not deskbound, nor predictable and offered a chance to develop the growth of the young and work with peers for a common good.
Starting his teaching career in 1975, Peter has taught in seven different schools, in all-boys, all-girls and co-educational settings, in both independent and Catholic.
He joined Mater Christi in 2005, as Director of Learning and Teaching, and has taught primarily, History, Politics and general Humanities. He has also been involved in supporting Distance Education students and has acted as the Organiser for Pre-Service Teachers for several years.
Peter says his teaching career is not so much characterised by the particular subjects he has taught, but rather by 'a love of supporting students to open their eyes to the Past, so that they can understand their Present, and so they can play a positive role in their Future - be it History, Politics, the Humanities, or life in general'.
"There is no greater satisfaction than knowing that you have played a role in helping students to grasp and understand their world and take appropriate action to bring about change, while at the same time encouraging them to be Informed and Compassionate."
Peter has achieved this goal for the hundreds of students who have been lucky enough to be part of his classes over his 17 years at Mater Christi.
A former student of Peter's and now alumna, Jess Clark said
"When I was in Year 10, Mr Kadar changed my whole way of thinking. He opened my eyes to political issues, gave me insight into different perspectives and influenced the goals I've set for myself and my career.

The discussions we had about social justice in his classes shaped me. Now, I can't just sit back and watch. I am in my fourth year of a Bachelor of Science / Laws at Deakin University, and want to go on to do something meaningful and make the world a better place." 
Reflecting on what he enjoys about working at Mater Christi, Peter says the support from other staff, the culture of respect and tolerance and the welcoming nature of the College has made his job easy over the years.
Peter also works hard to ensure his classes stay relevant and engaging for students, by continually increasing and updating his knowledge through professional development and regularly refreshing his courses. He remains open to change and recognises the importance of listening and being open to new ideas.
"As someone very wisely said 'you learn more with your mouth closed'. I know this is not original, but apparently we have two ears, two eyes and only one mouth for a reason."