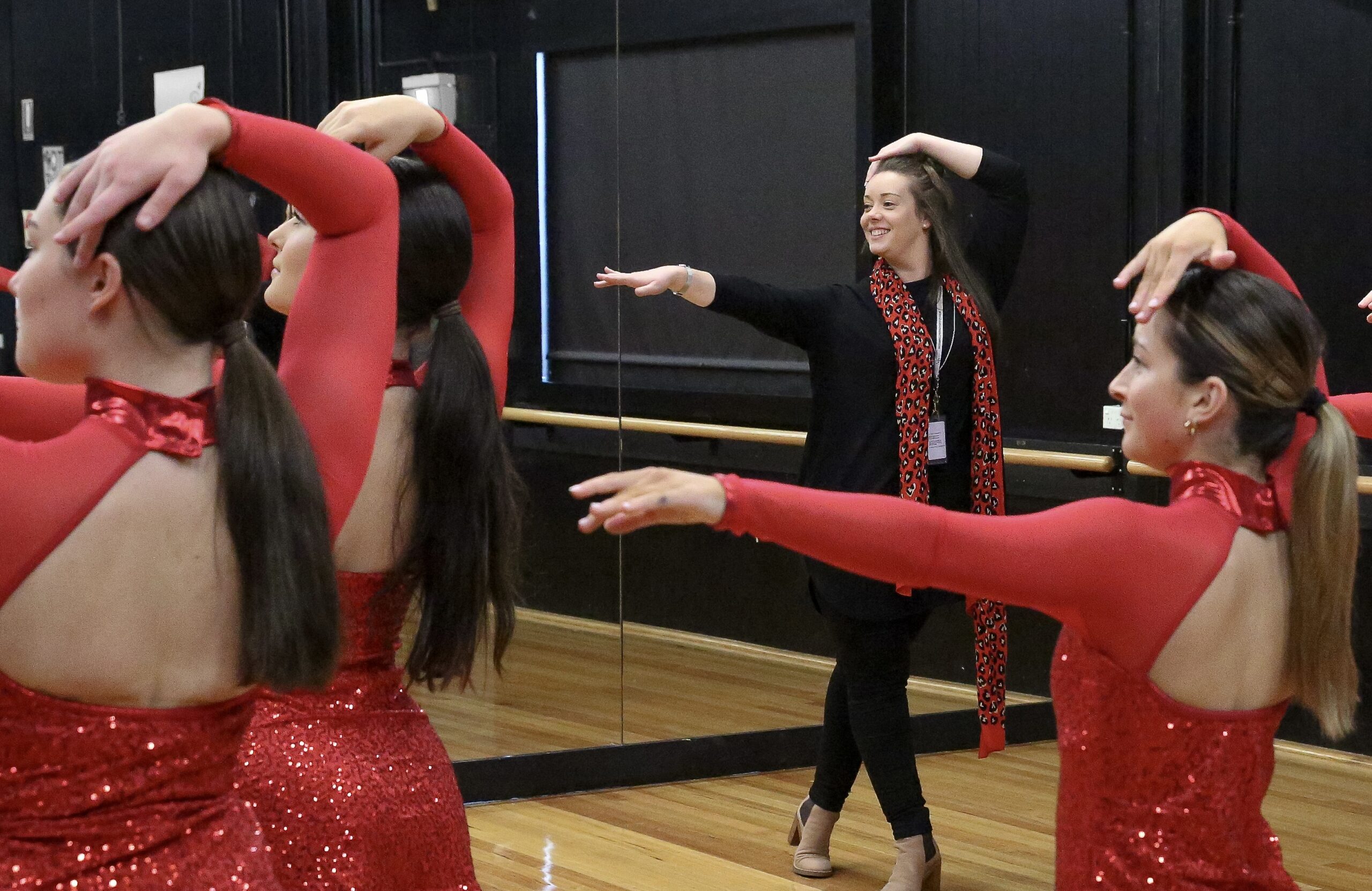 A lifelong love of Dance is fulfilled in Sarah's role at Mater Christi, where she draws on the high bar set by her own secondary school teachers. Sarah aims to do, for this generation, what her teachers did for her - creating a dynamic, engaging classroom where students are challenged and supported - setting them up for success beyond the walls of Mater Christi.
Sarah's childhood obsession with Dance began at the age of five, when she enjoyed ballet, tap and jazz classes.
Later, as she moved through her schooling, her interests broadened to the Performing Arts, and she became involved in musicals, theatre plays and dance shows.
Sarah's teachers at the time recognised and fostered her enthusiasm, encouraging her to become a student choreographer and leader.
"I adored everything involved with leadership and choreography, and this is where my strict and at times 'army regimented' rehearsal style was developed."
Sarah says she was lucky to have some brilliant mentors when she was growing up – teachers who inspired her and gave her a sense of purpose. This led to her desire to become a teacher herself.
"My VCE English and Theatre Studies teachers were inspiring. They would enter the classroom each day and we would not know what to expect. Drama and Dance workshops would evolve into guttural laughter or producing mini skits with social messages, while in English it could be an impromptu performance of Shakespeare or a wise anecdotal story. 
 Their commitment and teaching style instilled a sense of awe in me, and I wanted to do for the next generation what these sensational teachers had done for me."
Today, Sarah absolutely loves her job.
As a Dance teacher she unites with young dancers, teaching the history of the artform, analysing famous performances, critiquing modern trends, and producing individual works.
Teaching Drama she enjoys seeing students step out of their comfort zone and make personal discoveries.
And as Year 10 English teacher she helps bridge the gap between middle school and VCE.
For Sarah, seeing her students succeed in life beyond Mater Christi, and recognising that she had a part to play in their journey, brings incredible joy.
Sarah has taught a number of students who were exceptionally talented in Dance and Drama and have become professional performers, writers, producers, choreographers, directors, designers, lighting technicians and even influencers.
She has mentored student leaders who have gone on to have flourishing careers as social activists, doctors, teachers, business owners and politicians.
She has built bonds with students who initially felt they had no direction and later found their identity and thrived.
"It is the growth that I witness, in each student, that is the overarching highlight of my teaching career. I am extremely proud to have had the opportunity to make an impact on the lives of young people – whether big or small." 
Here is what some of Sarah's students have to say:
"Miss Owen has been one of my most influential teachers at Mater. Having taught me from Year 7, right up to Senior School, she has helped shape me into the person I am today. She encouraged my knack for creativity and music, was a constant supporter of all my endeavours, and pushed me to build my self-confidence in and out of the classroom. I am forever grateful for the immensely positive impact she has had upon me and my journey at Mater Christi."

Sienna

"Miss Owen creates a positive classroom atmosphere that encourages learning and friendships between students, while setting them up to do their best."

Jess S

"Miss Owen is a great teacher. Her sense of humour and calm approach to learning helps relieve our stress. She was able to change my mind set in English, by encouraging me to put in the work and achieve more than I thought I could."

Sami

"With her deep knowledge and love of dance, it was a blast creating routines and putting ideas together with Miss Owen. She has helped me so much with my confidence in dance and encourages me still to this day."

Jess C