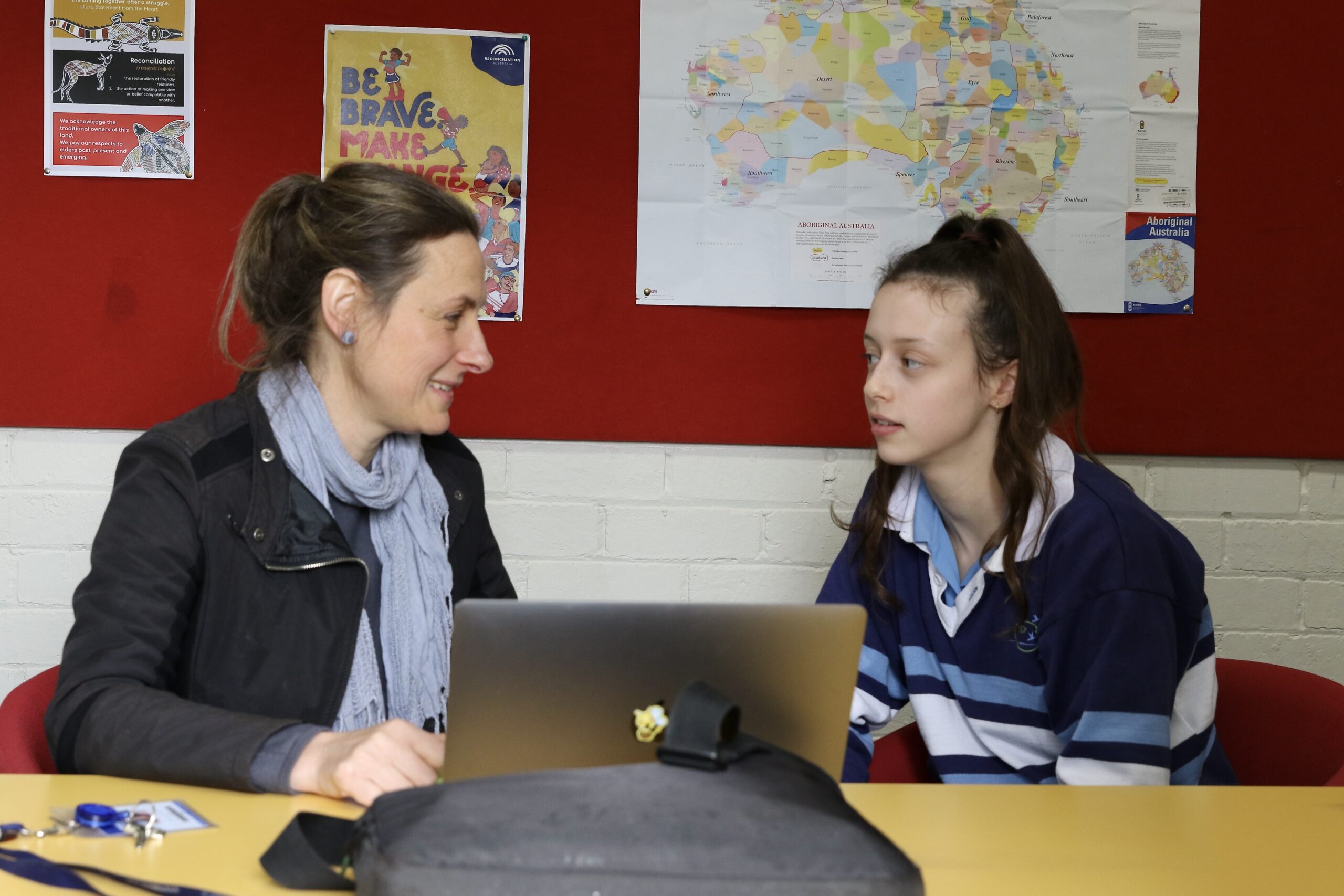 Naomi's natural spirituality, and her deep empathy and interest in people, have been the undercurrent of her life and teaching journey so far. She strives for balance - to always be present with the students and families she works with, as well as with her own family. She is passionate about equality and embracing diversity in our society, which she believes are the key to a better future for all.
Both Naomi's parents were teachers but, in her youth, she was determined to do anything but teach. "I loved studying Psychology in high school and originally thought I wanted to be a psychologist. At the time, to be honest, I would have done anything but teaching. Witnessing my parents spend long nights completing reports and corrections didn't inspire me much – I wanted to be my own woman!"
While she didn't envy her mother's chosen career path in her youth, Naomi's mum was and remains a huge inspiration to her.
"Mum's parents were refugees at the end of the Second World War, so things weren't easy for her when she was young. She was also a single parent for a lot of my childhood. But with strong family support, education and dedication, mum's life improved throughout her life. Her journey has shown me what can be achieved with the right support and opportunities."
After completing a Bachelor of Arts, majoring in Psychology, Naomi decided she needed some life experience. She worked two jobs and saved enough money for an extended overseas trip. Upon her return, she found herself drawn to a job working with people and took a customer service role at Telstra, in the hope of becoming a trainer.
"It was at this point, I began to realise that, despite wanting to make my own mark – teaching was calling me. I completed a Graduate Diploma in Teaching, found a job as a teacher, and felt like I had come home."
Secondary school had not been an easy place for Naomi, so she was inspired to be the teacher who understands her students, models acceptance and loves the subjects she teaches. To contribute to an environment where students feel safe and passionate about their learning. And she has certainly achieved that.
Naomi spent her first two years teaching Humanities and Religion at St Francis Xavier College during this time, was offered a scholarship to study a Master of Religious Education. Through this, she says, she learnt a lot about a subject she continues to teach and enjoy today.
"I see having the opportunity to examine, question and explore beliefs as a real privilege."
Commencing in 2005, Naomi has taught at Mater Christi for 17 years now. She currently teaches Humanities, Religious Education and Psychology – a perfect combination that lines up with her own passions and interests.
"These subjects complement each other well and inform us about who we are, where we have been and where we are going. Understanding our past, our spiritual selves and how our minds work, offers a lot of insight."
For the past 10 years, Naomi has also been involved with the Indigenous Support Program at Mater Christi. This government funded initiative, enables schools to appoint a tutor to work with Aboriginal and Torres Strait Islander students.
Naomi tutors students, for around an hour each week. They can use this time, as they choose, to debrief, proofread work, look at organisation strategies, get help with assignments, or discuss pathways.
"Over the years I have worked with students from Years 7 to 12 as part of this program. I've certainly seen the benefit for the students who choose to take up this opportunity, in terms of school engagement and having one person to touch base with each week.
I connect with the Aboriginal Education Officer at Melbourne Archdiocese Catholic Schools, whenever I have questions, and over the years I have also attended the Aboriginal and Torres Strait Islander network program, when it runs. It has been a great learning experience and a definite highlight for me."
Naomi also aims to demonstrate to her students that they personally have the power to speak up about important issues that hold our country back from practising true equity – issues such as the recent push to enshrine Aboriginal voices to parliament. She walks the walk herself too, in this regard, often writing to Members of Parliament, and occasionally Letters the Editor to voice her concerns and hold our leaders to account.
On a personal level, despite her naturally calm and centred nature, Naomi says, even she is still learning to 'stop and take time out'. This is something she incorporates into her teaching practice and finds of benefit to her students too.
"I always try to incorporate mindfulness and some yoga into my classes. I have noticed that students are more productive, even after just a short break to be still and quiet. For some, doing what seems to be nothing is a challenge, and a learning experience, in itself"
To ensure balance in her life, Naomi works part-time, so she can devote time to her family, attend important events and be present for them as well. She is a qualified yoga instructor and enjoys the outdoors, including camping, bushwalking, beekeeping, and gardening.
So, despite her youthful plans to pursue other avenues, teaching and working with young people is undoubtedly Naomi's true calling.  She incorporates the bigger picture into her teaching, encouraging her students to show kindness, acceptance and compassion to themselves and others and modelling these traits herself.
"I am passionate about equity not only for girls and women but for all people. When differences can be celebrated, we include diversity more readily in all areas of society and as a result find better outcomes.  I also have a passion for learning about our true Australian history and being part of 'truth telling' as an educator, in the spirit of reconciliation."
____________________________________________________________________________
Here's what Naomi's students have to say:
"Mrs Trumino is one of the best teachers I've ever had. When she does reflection or meditation at the beginning of class I always have a clear and focused mind. She has a calm, caring way about her."
Akira, Year 7
"Mrs Trumino has been my very important person in my high school journey, right from Year 7. She has worked with me through the Aboriginal tutoring program. Not only has she provided me with educational support, but she has also supported me through tough times, taught me valuable study techniques and helped me to set lifelong goals."
Olivia, Year 11