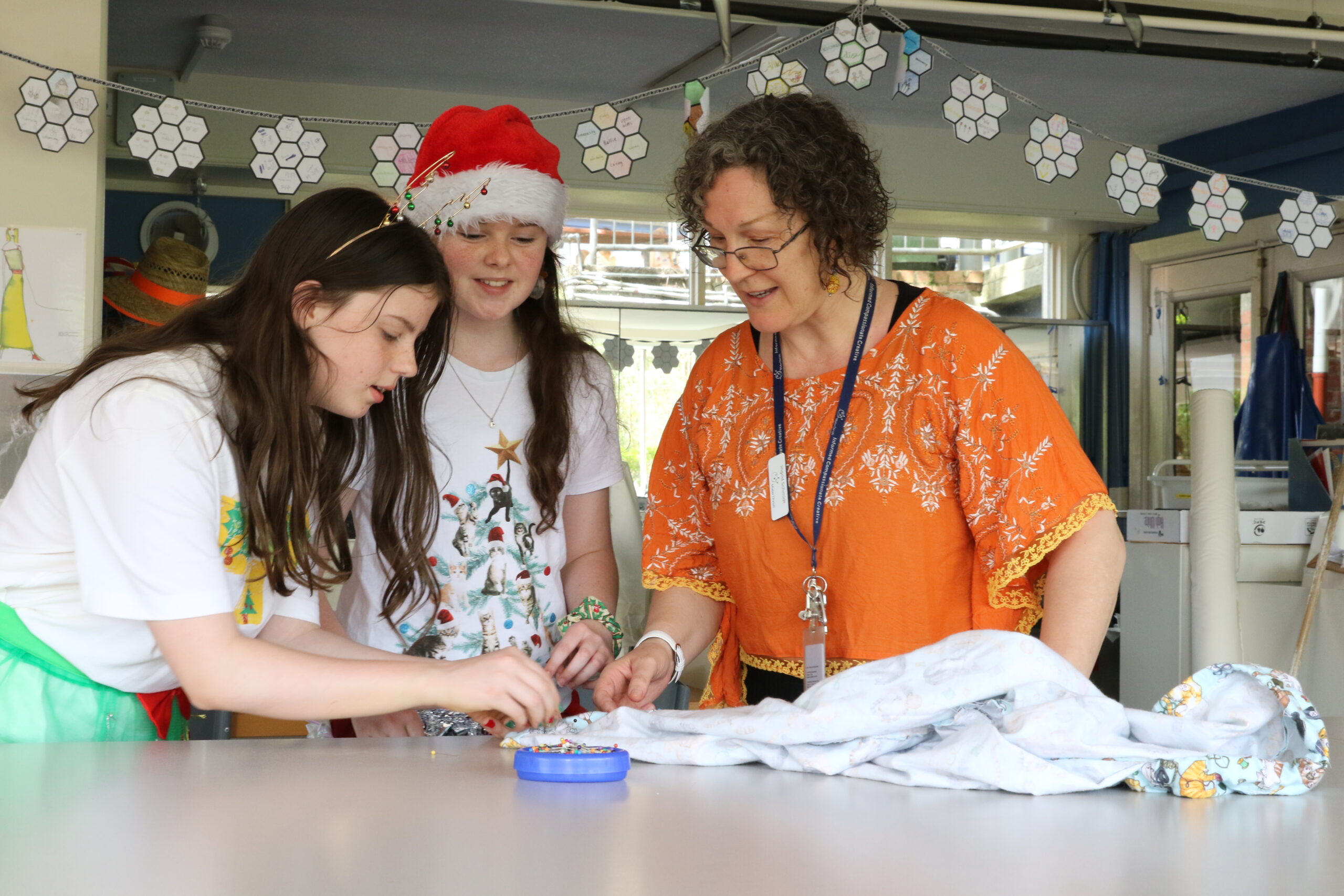 With 25 years of dressmaking experience, and a passion for everything creative, Ingrid Schmidt is loving every minute of her first teaching position at Mater Christi.
Textiles and Art teacher, Ingrid Schmidt arrived at her dream job later in life.
After running her own dressmaking business for 25 years, followed by some time out to raise her daughter, Ingrid began a Bachelor of Creative Arts Degree, as a mature aged student in 2015. When she finished the course, she wanted to share the joy she gets from creating things with others.
"I experience joy when I create something. I wanted others to experience that too. Afterall, the world needs more joy!"
Ingrid completed a Master of Teaching in 2019 and took her first teaching post at Mater Christi this year. Her love of art and teaching shines through in her classrooms with many students expressing their appreciation for her support and dedication.
"My teacher Miss Schmidt's garment making experience has been incredibly helpful. During lockdown, she was able to explain things via zoom, if we had any questions. She even helped draft a pattern piece for the bodice of my dress and was willing to jump on zoom at 5 o'clock one Saturday afternoon because I couldn't figure out how to cut out my pattern piece"
Cassidy – Year 12

"The dress I made needed a zipper, which I had never done before. Miss Schmidt walked me through the process, which was a big help. Even though I bought the wrong zipper, Miss Schmidt showed me how to make it work and it turned out better than I expected"
Cloe – Year 11
Ingrid teaches Senior Product Design and Technology (textiles), Middle School Art and the Year 11 Catholic Action Program (CAP) - and she loves it all.
"I love teaching Product Design and Technology to the Senior students because it's so satisfying to be part of their creative process and to witness their amazing and inspiring ideas. I love being around the effervescent, happy younger students in Year 8 Art and I love teaching CAP because we are making a difference in our world."
"Seeing Cloe twirl blissfully in the dress she made, seeing Cassidy's face when she was on the home stretch making her elegant gown and seeing the justified pride the Year 8s felt with the artwork they produced – all simply made my year."
In her spare time, Ingrid enjoys spending time with her daughter, pottering in her garden, catching up with friends and family and, not surprisingly, messing around with fabric, paint, paper and beads.
She says she feels deep gratitude for the opportunity of working at Mater Christi.
"Working at a place with great people and wonderful resources and being trusted to do a good and thorough job, is a blessing. All the staff here go the extra mile – it's really nice working with people with that mindset.".
Ingrid is looking forward to an exciting 2022, when she will be teaching VCE Product Design Technology and VCE Studio Art to the Year 11's. Her daughter will also be beginning her own MCC journey, in Year 7.