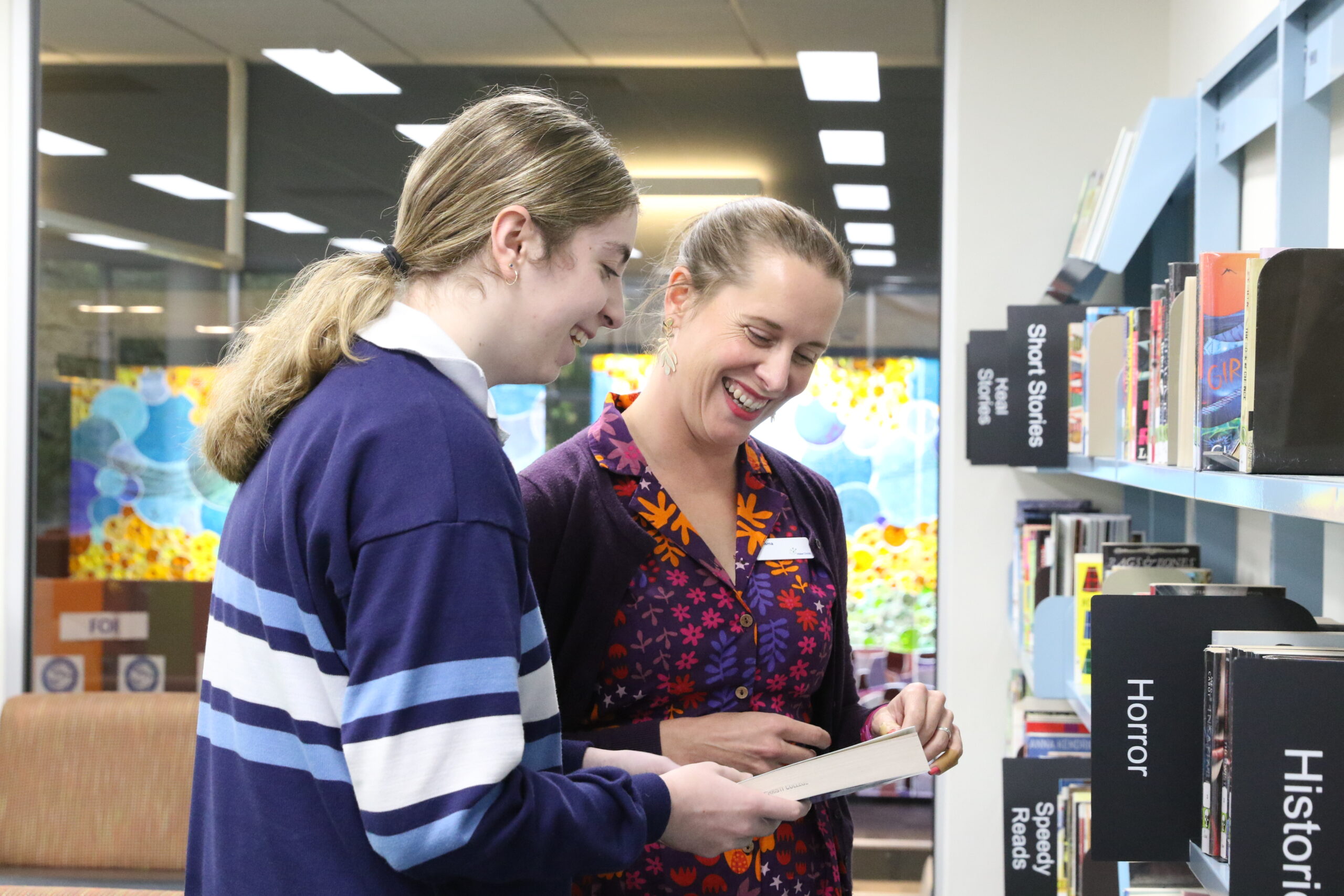 Amy Isma has been able to combine her teaching experience with her love and passion for libraries, in her role as Head of Learning Commons at Mater Christi. She sees the Mater Christi Learning Commons as much more than a traditional library, but rather a vibrant community hub - connecting students and staff to each other, and to information and resources that create diverse learning opportunities.
Amy joined Mater Christi in January this year. While she has been a teacher and involved in libraries for 13 years, this is her first time doing both, at once and she has clearly found her niche.
Prior to taking on the role of Head of Learning Commons, Amy taught English, RE and Textiles in various Catholic girls' schools in Melbourne. She also worked at the State Library Victoria in their Education Programs team.
"I always enjoyed visiting the library as a student and as an English teacher, but I really fell in love with libraries while volunteering at the State Library."
 During this time Amy discovered just how valuable libraries are to the community.
"I saw how libraries really do change lives. They play a powerful role in linking people to their community, and to information and services. They support equality, inclusion and social justice."
Amy's experience at the State Library inspired her to begin studying a Masters in Librarianship, and ultimately led to her joining Mater Christi's Learning Common's team.
Amy says the Mater Christi Learning Commons is much more than a traditional library - with many enrichment and social opportunities on offer.
"Students can tinker with technology such as 3D Printers, Drones and Sphero Robots. There are board games and card games, and even pop-up guest speakers, entrepreneurs' markets and speakers' corners."
One of the highlights of Amy's week is the Middle School and Senior Book Clubs. Run by her Learning Commons colleagues Rebecca and Kaitlyn, they take place weekly, at lunchtime.
"The MCC Book Clubs, run by my colleagues Rebecca and Kaitlyn, are like nothing I've ever seen, anywhere else! Both groups are fabulous places for talking (or debating, yelling, or crying) about books and the characters and authors everyone loves, and loves to hate. They are the absolute highlight of my time at Mater Christi so far. I tell everyone that MCC has the best book clubs!"
And of course, the Learning Commons is a place for learning.
"It is a comfortable and welcoming space for homework, study and reading. Our Teacher Librarians are always available to support students to develop inquiry and research skills and use information effectively. It is also home to Zenith – an extension program for Middle School students."
Amy describes her job as primarily about being kind to people, welcoming them and helping them find what they are looking for.
"I do a lot of talking to people – students, teachers, other staff, and people in the wider community. Most of the time it boils down to – 'what can we do to help?' and 'what can we create together?'"
Mater Christi's Learning Commons is such a vibrant community hub and I feel fortunate to be a part of it."