I graduated Mater Christi in 2005 with fierce focus and a serious plan. I was accepted in the Victorian College of the Arts to study Sculpture and Spatial practice.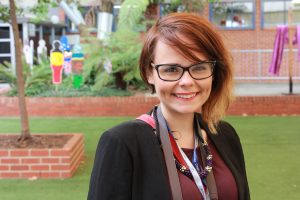 I've done a lot since then. I completed art school, studied abroad, exhibited my work, travelled all over the world, bought a house and got married. If someone had told that fierce and focused 18 year old that 10 years on, instead of living in New York as a successful contemporary artist she would in fact, be working in Australian Politics she wouldn't have believed you…but here I am. 
After completing my Bachelor of Fine Arts I quickly transitioned from Art Student to Art teacher, eventually obtaining a postgraduate degree in Education. I soon learned my formative years at Mater Christi, informed by feminism, social justice and community, were deeply rooted in me and I eventually joined the Australian Labor Party. While teaching part-time, I worked for many different unions eventually becoming a full time union organiser for the Victorian Trades Hall Council. In 2014 I managed a state wide political campaign for teachers, fire fighters, paramedics and nurses, a job that was exciting and consuming with each day changing and I LOVED every minute of it. Coming from a working class/migrant background empowering people to stand up for their rights and conditions at work felt right and I wanted to make it my career.
Fast-forward 2 years, I now work for a Federal Labor Senator and do a lot of interesting things daily. I engage with policy around the things I care about (gender equality, education, asylum seekers, healthcare and industrial relations) and see democracy at work within the Labor Party and the wider political spectrum of Australia. 
For any young woman thinking of going into politics I cannot encourage you enough. For girls, the male dominated world of politics can be tough, but we need strong, progressive and compassionate female leaders in this world and the confidence and values instilled in you at Mater Christi will take you further than you might think…
Amy Muratore - Class of 2005
---
Where are you now? Share your alumnae story with us.

We know there are many great stories to share. Send a photo and 150-200 words about studies, interests, career, adventures... to mcc@materchristi.edu.au OR forward this invitation to Mater Christi Alumna