I graduated from Mater Christi in December 2005 with a clear and focused plan.
I left Australia in January 2006 to explore, travel and live in Germany. I couldn't speak a sentence in German at the time. But with a strong will and determined attitude I became fluent after several months and found a job. It was one of the most challenging and rewarding experiences of my life.
During my senior years at Mater Christi, I studied Physics, Maths, Chemistry and Biology and I thought I knew the path in front of me. So, after my year abroad, I returned to enrol in a Bachelor of Forestry Science at the University of Melbourne.
But in my time abroad, some things about me had changed. I became stronger, wiser and more independent. Most importantly, I began to learn more about myself and the diverse skills I had. Not just those that gained through an excellent secondary education. 
Several years later, I graduated with First Class Honours in International Development at La Trobe University. My field research examined how gender empowerment programs were improving women's financial independence, leadership skills and challenging gender power relations in South India. From this time, I had a new ambition – to improve strategies for women's empowerment and social change.
After university I was accepted into a Federal government graduate program in 2013. It was not what I ever expected that I would do but it was an invaluable experience. I worked on various policies including women's safety, remote Indigenous engagement, and housing research. I gained practical skills and learned from complex policy environments.
All these stories have ultimately shaped my future ambitions and research goals. 
Right now, I am writing this piece from a small community which is in the heart of escarpment country and the gateway to Arnhem Land communities in the Northern Territory. Today in Gunbalanya we launched Charlie King's "No More" Campaign. In the spirit of community organising, we linked arms, marched around the red dirt tracks, and shouted loud "say NO more to family violence".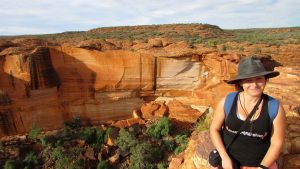 Through my PhD research I am working with traditional owners, community elders, service providers and the police to improve community safety. We are exploring how service providers use their knowledge of risks and community strengths to protect people from violence and crime. I hope to develop a cross-cultural framework for understanding and operationalising community safety on the ground. My passion is to use research to create the momentum for social change.
Reflecting on my past experiences, I recommend that all VCE graduates consider taking a gap year. Challenge yourself, aspire to learn new skills and surprise yourself! You never know where life will take you, even when you think you have the future planned. 
Simone Georg - Class of 2005
---
Where are you now? Share your alumnae story with us.

We know there are many great stories to share. Send a photo and 150-200 words about studies, interests, career, adventures... to mcc@materchristi.edu.au OR forward this invitation to Mater Christi Alumna