I was sitting at my laptop in class when the email arrived. "…I am writing to invite you to share your story as a member of the Class of 1996…" and the first thought that crossed my mind was, "What could I possibly share? I haven't achieved anything great!" 
I then looked up from my laptop and gazed at the young women before me, who were part of my Year 12 Psychology class. They were bright-eyed, curious and eagerly chatting about the material they were learning. At that moment I saw myself reflected in their smiles and I realised just how far I've come.
I attended Mater Christi between 1991-1996. I can't recall much from that period, but I know it was a time filled with a sense of angst and confusion. I didn't have the greatest home life which meant that I was insecure and depressed as a teenager.  School was therefore my refuge.
Mater Christi was the one place I could feel free. Not only did I have a wonderful group of friends, but I was also fortunate to have incredible teachers who inspired and challenged me to reach my potential. Some truly made a difference in my life. I don't even know if they'll read this, but to Ida Di Gregorio, Brigitte Piccinin, Sylvia Du Parc, Tara Cox and Helen Smith - thank you from the bottom of my heart for modelling to me what it takes to be an exceptional teacher! Above all, to the late Adrienne Gray, it was an honour to have sat in your Biology class and to have been transcended by your knowledge and passion! It is because of you that I fell in love with the subject and now teach it to the next generation of incredible young women.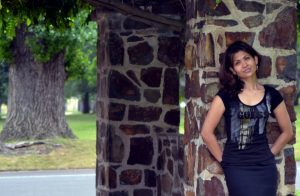 So, what have I achieved in 20 years since leaving Mater Christi? 
I could focus on the travelling I've done, the courses I've studied or the various jobs I've dabbled in but, instead, I'm going to focus on the relationships I've formed, because therein lies my true success stories. I've taught over 1000 students in the last ten years. I've laughed and cried with them, nurtured and listened to them. In return, they've helped me to discover my worth. 
I've also raised two incredible sons, married the man of my dreams and am lucky to have the same amazing friends I had in high school. The journey hasn't been easy, but I'm thankful for all that I've endured and overcome. I truly consider myself blessed.
Tracy Alles - Class of 1996
---
Where are you now? Share your alumnae story with us.

We know there are many great stories to share. Send a photo and 150-200 words about studies, interests, career, adventures... to mcc@materchristi.edu.au OR forward this invitation to Mater Christi Alumna