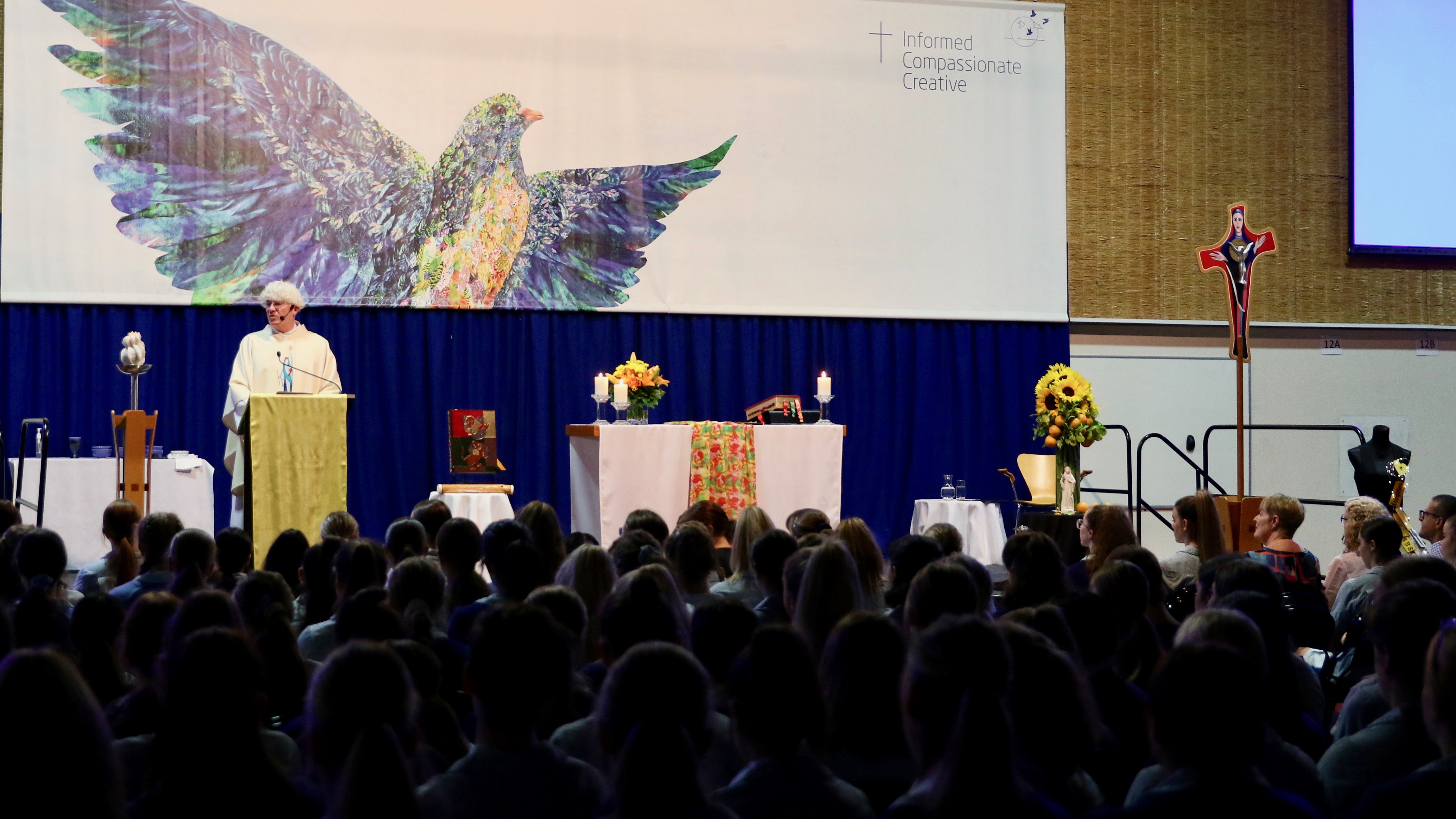 During his homily at our Opening Mass, Fr Chris Ford expressed that the story of the Good Samaritan is one of the greatest stories ever told and urged us to 'go and do likewise', show mercy, be the mercy of Christ for each other.
Below is his full presentation.
I'm going to make a bold statement: the story of the Good Samaritan is one of the greatest stories ever told.
Why?  Because it goes to the very heart of what human behaviour is about.  It is not limited by time or bound by culture.  It is a story that speaks to the heart of every culture and in every time and place.  We are all bound together as one in our common humanity; we are called by our very humanity to come to the assistance of our brothers and sisters regardless of culture, race, religion, status, occupation or any other factor that we think might separate us.
Jesus locates the story on the road from Jerusalem to Jericho, which, in his time, was notorious for its danger and difficulty, and was known as the Way of Blood, because robbers would so often violently kill unsuspecting travelers.  Jesus identifies the first two who pass by the injured man as a priest and a Levite, who were both religious officials connected to the great Jewish Temple that, in the time of Jesus, was at the centre of life in Jerusalem.  You would think that they would be the first to come to the aid of someone in need.  But, Oh no, they were too busy, they didn't want to do anything that would make them ritually unclean, they didn't want to get involved … Oh no!  They were too important, they thought they might become victims of brutal robbers, they were afraid.
Next came a Samaritan.  The simple fact is that, at the time Jesus was telling this story, Jews hated Samaritans.  And Samaritans hated Jews.  They had been cultural enemies for centuries.  And this is the genius of the story.  The priest and the Levite dared not help a fellow Jew, but the one who came to the assistance of the injured traveler was his enemy.  He didn't just stop to check that the man was all right.  He touched him (which was taboo).  He sanitised and bandaged his wounds. He put him on his own horse and transported him to a place of refuge.  He paid for his care and treatment.  He promised to come repay the inn-keeper if there were additional costs.  His care knew no limits. 
There are two important expressions in Jesus' story that capture the essence of the Samaritan's actions: firstly, upon seeing the injured traveller, the Samaritan was moved with pity … that's important to notice … he was moved with compassion, moved to the very core of his being … hence he responded with all his heart, all his soul and all his strength … with everything he had and was all that he was.
Secondly, when Jesus asks: which of the three was a neighbour to the man who fell into the hands of the robbers?, the lawyer responded: the one who showed mercy.  Sometimes we think that mercy is equivalent to weakness … far from it … in the biblical languages mercy is equivalent to love, to enduring faithfulness, to kindness and care … to compassion and forgiveness … mercy is the most God-like quality there is.
So why did Jesus tell this parable?  Let's go back to the start of the story.  A lawyer approached Jesus and asks him what he must do to inherit eternal life.  He puts the question back to him: What is written in the law?  In other words, what does our tradition teach us?  What do we learn from Moses and the prophets?  All our wise and holy women and men … what have they taught us?  The lawyer answers, to love the Lord you God with all your heart and with all your soul and all your strength and all your mind, and your neighbour as yourself.  The lawyer gets an A+ for that answer … to love God and neighbour is the best possible summary of Jesus' teachings.
But the lawyer is curious … he asks Jesus, who is my neighbour?  And so Jesus tells the story of the Good Samaritan, one of the greatest stories every told.  Who is my neighbour?  Everyone is my neighbour.  Who is my neighbour? Not only my friend, but also my enemy.  Not only those who look, act and speak like me, but especially those who don't.  Not only those who share my religion, my values, my morals … even those who don't.  In Jesus' vision of the world, there are no boundaries between people, nations, languages, cultures or religions.  We are all sons and daughters of God, who created us, who loves us into life, whose love is everlasting.
All this makes sense, because Jesus came to show us the love of God, to teach us how to love as neighbours and to be the very example of that love … even to giving his life for us … for you, for me, for all of us.  Jesus is the personification of this parable, the personification of mercy, the personification of love and compassion … which is why saints like Benedict, and Scholastica and so many others chose to follow Jesus, because he was the personification of mercy and compassion.
There is only one thing left to do … Jesus asked the lawyer, which of these three acted as a good neighbour.  The lawyer responded.  The one who showed mercy.  Jesus said: "Go and do likewise."  To all of you … and to myself … I repeat: go and do likewise, show mercy, be the mercy of Christ for each other.