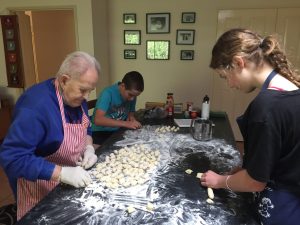 For my Personal Project I created a calendar which has a traditional Italian recipe from my nonna for each month.
I decided to do this for my product as I really wanted to capture my nonna's cooking as she is 92 years old and quite fragile.
I found this experience to be very rewarding as it enabled me to spend quality time with my nonna.
I was able to experience first-hand her passion for cooking and how she enjoys bringing the family together and nurturing us all by providing us with a delicious meal.
Alanna Jackson - Year 10
---
In the final year of the Middle Years Program (MYP) Year 10 each student completes a Personal Project, a significant investigative work that is the product of the student's own initiative and creativity.
The aim of the MYP project is to encourage and enable students to participate in a sustained, self-directed inquiry within a global context and demonstrate the skills, attitudes and knowledge required to complete a project over an extended period of time.
Students are expected to choose a project, which can take many forms, and take the process through to completion under the supervision of a staff member in the College.