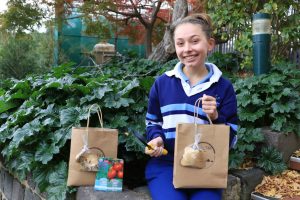 For my Personal Project I created a kit to help consumers plant a healthy garden. The kit contained seeds, tools and other resources to start the garden. I sold this to friends, family and some of my teachers and donated all profits to Mental Health Australia.
I decided to do this because I wanted to find a way to help improve the mental and physical health of others and I wanted to try and do this in an easy and appealing way. Overall I raised $60 for Mental Health Australia and sold all 12 of the kits. 
The project was a great program and I enjoyed undertaking it. I loved having the freedom to chose what I wanted to do and research what was necessary. It was a great experience and I have learnt so much.
Alexandra Mai - Year 10
---
In the final year of the Middle Years Program (MYP) Year 10 each student completes a Personal Project, a significant investigative work that is the product of the student's own initiative and creativity.
The aim of the MYP project is to encourage and enable students to participate in a sustained, self-directed inquiry within a global context and demonstrate the skills, attitudes and knowledge required to complete a project over an extended period of time.
Students are expected to choose a project, which can take many forms, and take the process through to completion under the supervision of a staff member in the College.