I chose to research influential Australian women because I would often hear how gender equality hasn't progressed very far in Australia and I wanted to see if this was true. From research I realised gender equality has progressed so I did a book about different Australian women.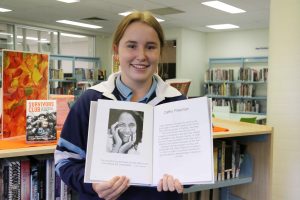 I chose to focus on women who had put in a significant effort in areas that they are passionate about. I also selected women who have gone through some tough things in their life but emerged with a more open mind, willing to spread important messages.
I now know so much more about the struggle women have faced in trying to overcome inequality in different aspects of life. I know that gender equality still has a long way to go although we can't overlook how much it has progressed. I have learnt not to always look at the negative in a situation but try to find the positives.
I hope by creating this book I can inspire and encourage gender equality.
Sophie Hill - Year 10
---
In the final year of the Middle Years Program (MYP) Year 10 each student completes a Personal Project, a significant investigative work that is the product of the student's own initiative and creativity.
The aim of the MYP project is to encourage and enable students to participate in a sustained, self-directed inquiry within a global context and demonstrate the skills, attitudes and knowledge required to complete a project over an extended period of time.
Students are expected to choose a project, which can take many forms, and take the process through to completion under the supervision of a staff member in the College.