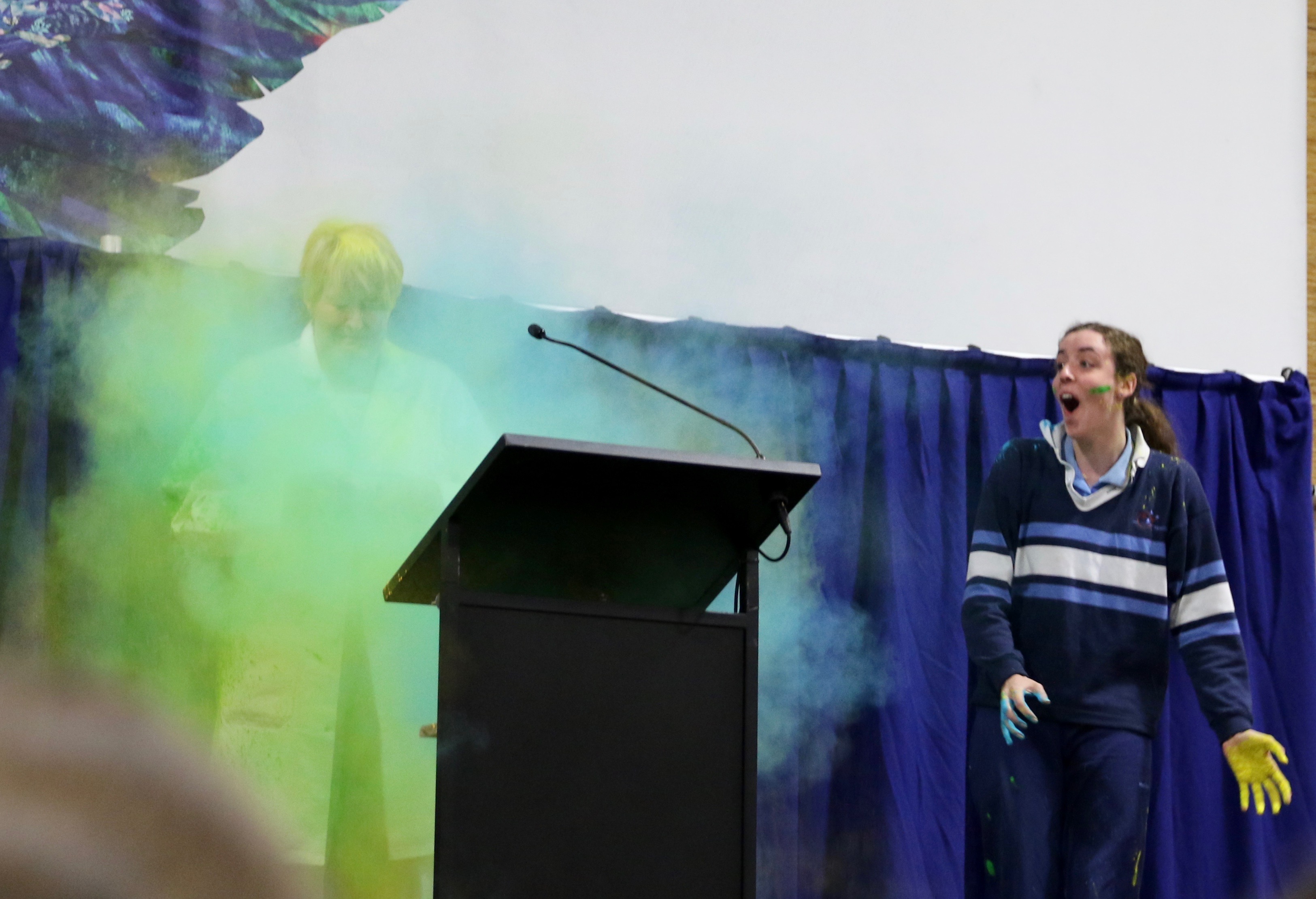 During the recent break, many Christians recognized and celebrated the feast day of St Benedict of Norcia.  Mater Christi College, as part of Good Samaritan Education, uses his Rule to inspire and guide us to live out Jesus' teachings of love, forgiveness and justice for all.
Amidst the many crises facing society today, we can learn much from his example. Despite the instability, disorder and corruption of his time, Benedict did not run away from life.  Rather he deliberately turned towards God, seeking peace in his own soul, peace with creation and peace with his fellow human beings.
His message can often be missed in its simplicity, "seek peace and pursue it".  Peace and tranquility is found in seeking God through respectful relationships with others. Focusing on Benedictine values reminds us of ways to do this, through prayer, practicing stewardship, hospitality and authentic community.  His counter to rabid individualism is to pool resources, collaborate and join a team.
In the busyness of our school days, we need to be reminded always to 'listen with the ear of our heart' to the needs of others.  May our students especially know to follow in the footsteps of Benedict, to be learners, leaders and advocates for a just and fair society.
We thank Year 10 students Rahni Harrison, Patricia Foo, Ella O'Neill and Hayley Ruddell along with teachers Grace Dillon and Amanda Bischof-Foster for participating in Good Samaritan Education Ministry Outreach program in Sydney during the recent term break.  We hope that other students will be inspired by their transformative experiences with marginalized groups in our community.
We look forward to generous sponsorship from all students and families for the Mater Day Colour Run, raising funds to support the work of our Good Samaritans helping those in need – in Philippines, Kiribati, East Timor, Santa Teresa and at the Good Samaritan Inn in Preston. The colourful launch of this student initiative at last week's assembly indeed captured our attention.
We are grateful also to the following families – Collins, Thomas, Capocchi, O'Grady, Christensen, Ede, Cattini-Schultz – who are hosting five very excited Japanese students – Moe Furukawu, Rinna Kako, Rinko Kawaguchi, Eri Nakahito and Yuki Imai. Not only will these visiting students gain a new understanding of Australian ways, but local students will have a great opportunity to gain insights into Japanese culture, especially as our visitors have a great command of English language already. It was lovely to meet with them and their host families for a welcome afternoon tea, and I thank Kylie Lee, our newly appointed Director of International Students for her organization of this opportunity.
Important information and advice will be provided to students and parents as we deliberate over the next few weeks on subject selections for the following year. Please be sure to check the calendar, for Year 9 & 10 Parent Information Night as well as the  Subject and Tertiary Expo event of 2 August.
Finally, we are greatly saddened by the recent death of former teacher Lorraine McCart. Lorraine was a keen, conscientious and constantly curious Science (and Mathematics, Pastoral Care and Special Needs) teacher over many years at Mater Christi College who participated generously in support of all curriculum and extra curricula activities.  She is remembered fondly by many for her gentle wit, calm disposition and as a positive mentor to all.
She demonstrated great faith and courage following the sudden death of her son, James, five years ago, especially supporting the donation of his organs for others in need.  Since retiring in 2010, she gained a Masters' Degree in Chemistry, then volunteered at the University of Melbourne and with the Epilepsy Foundation as well as caring regularly for her two grandchildren.  It was a tragically short time from diagnosis before she was taken into God's care.
We pray for her family during these sad days, husband Peter, daughter Sarah, son-in-law Stephen and grandchildren Catherine and Lachlan.
May God bless and grant courage and peace to Lorraine's family, colleagues and friends.
May eternal light shine upon her, and may she now rest in peace.
Mary Fitz-Gerald
Principal