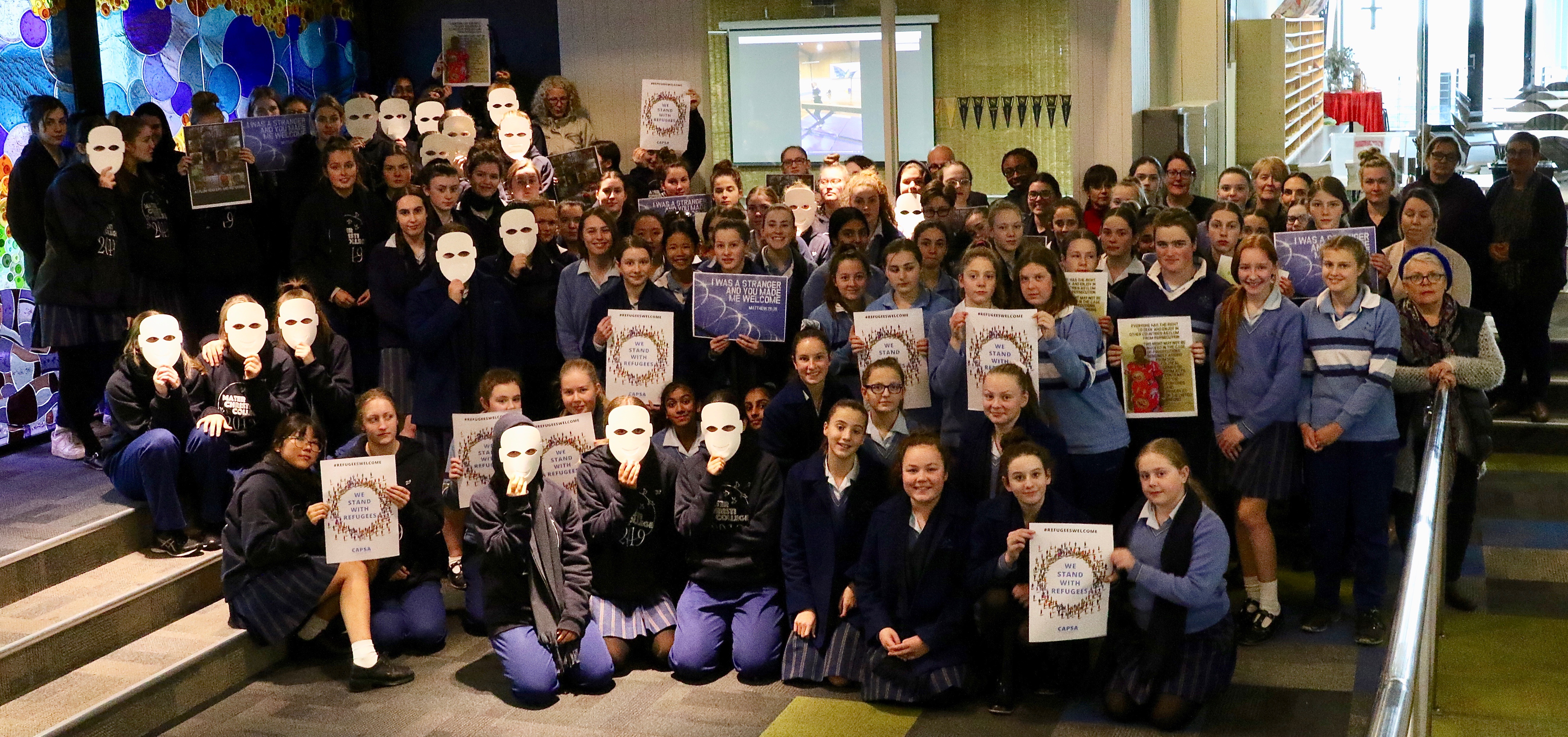 It is affirming of our Christian mission to witness our students and their growing commitment to social justice actions, much being evident in these final weeks of term.  Groceries and funds continue to amass at collection points to assist with our "Tinnies for Vinnies" campaign, hereby providing support for those in need in our own local community.
At the same time, this past week, the College community took action and reflected prayerfully through CAPSA's (Catholic Alliance for People Seeking Asylum) National Week of Prayer and Action.  This alliance is committed to work for compassion for people seeking asylum, advocating for fair and humane treatment by Australia and all nations.  Compassion for the stranger who has fallen on hard times is at the heart of Jesus' life and message.  Pope Francis has led by example here, visiting camps, begging authorities for refugees to be given a home and praying at places where they have suffered.  We recognised the call to 'do likewise'.
It was heartening to witness those students and staff last Wednesday who supported the Circle of Silence, a lunchtime gathering held to recognise the injustices faced by many refugees and people seeking asylum. Fittingly the week ended with a sleepover held at school where a small but determined group of students and staff "slept rough" in solidarity with those too many in our community who are homeless.  During the evening students put together the 'care packs' from items donated by other students via Personal Project and Reflection Day activities, ensuring that these packs contain items which provide for warmth, cleanliness and wellbeing.
As we move now into our Pentecost Season, it is clear to me that the Spirit is indeed inspiring and firing up our young students with a strong sense of the common good, acting as Good Samaritans wherever they perceive a need.  As debates across our community continue around freedom of speech, the rights of extreme groups for hate speech and fears continued to be expressed about supporting refugees and asylum seekers, it is essential that we as teachers and parents ensure that our students understand that power lies within us all to speak out and promote peace and understanding.  I suggest we consider the Pastoral Letter from our four Victorian Catholic Bishops as an example of courteous but firm conscientious objection to the new Voluntary Assisted Dying legislation, "we are called to engage ….with friendship and wisdom, not motivated by fear.  We hold no animosity for those with whom we disagree…"
Joan Chittister in her analysis of Benedict's steps of Humility, argues that the final step is the most important of all: What we say, and how we say it, defines us.  She says that "we must learn to listen to one another.  Then, we must learn to speak with all the needs of the world in mind.  And wherever we are, in whatever family, church, city, society or country, we must take the first step toward a loving, peaceful world by speaking there as we would want the entire world to talk to one another" (From Where I Stand, NCRonline.org, June 19, 2019).  She tells us that life is about language and ours ought be "gentle, reasonable, brief and humble" or as outlined more simply at our recent College Assembly, only kind words are required.  Imagine this?  Why not?
These past days have been busy with reports and end of semester assessments, all of which we believe are now available for parents and students to view. (We apologise for disruptions in their dissemination, and look forward to a new style parent portal interface early next term).  Please be sure to discuss your daughter's results with her and come along to Progress meetings.
Finally we all know that "there is no such thing as a perfect parent. However, research shows that one of the most important protective factors in the lives of young people, is a close relationship with a supportive adult."  And so, Dr Michael Carr-Gregg introduces our next SchoolTV Special Report on Positive Parenting which I commend to all parents and guardians. Perhaps some pre-holiday viewing? Otherwise, I trust that student, families and staff enjoy the well-earned term break ahead.
And so, we close in prayer:
Lord, No one is a stranger to you and no one is ever far from your loving care. 
In your kindness watch over refugees and asylum seekers, those separated from their loved ones, those who are lost, and those who have been exiled from their homes. 
Bring them safely to the place where they long to be, and help us always to show your kindness to strangers and those in need.  
Mary Fitz-Gerald
Principal