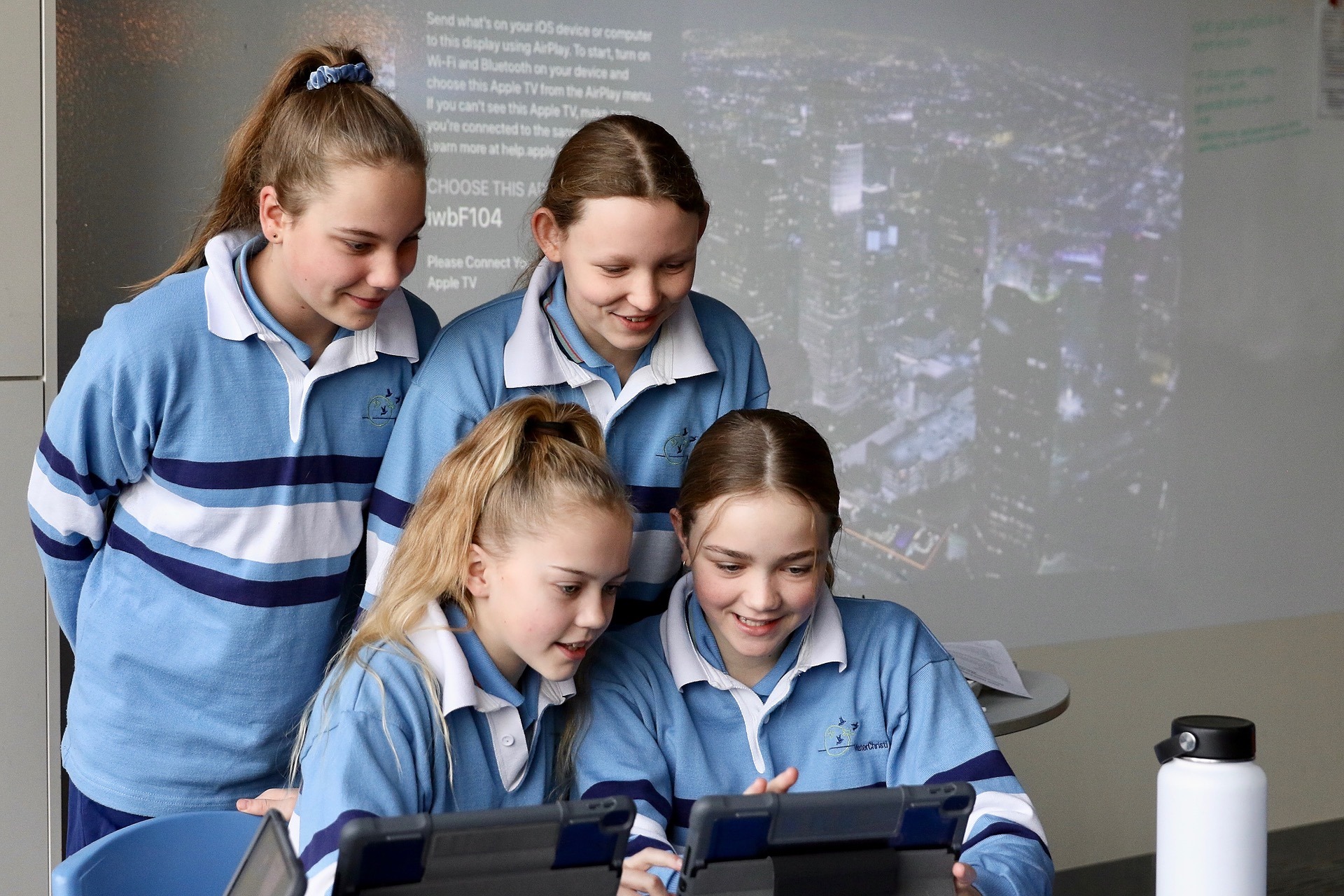 I wish to add my congratulations to Maria Haggett on her appointment as Principal of Mater Christi College from 2021. We have started a program of regular communication and are looking forward to future occasions when Maria can meet with students, staff and families, formally and informally. I can assure you all that just as she is very excited about joining our
Good Samaritan community, I am confident that her expertise and energy will provide great leadership for the College in the years ahead.
For now however, as this final week of term draws out, hardly a conversation goes by without mentioning what a long term this has been and wondering if our holidays will again be limited by the resumption of lockdown measures.
Having our young people back on campus has been a great gift. Above and beyond some of the challenges of remote learning, our students have demonstrated loads of positivity, energy and resilience. We know that switching gears from classes at school, to classes at home and finally to classes back at school has required significant organisation and commitment. Students' feedback provides new detail behind the potential for new levels of independent class learning, recognising that not everyone is at the same point of readiness at one and the same time. Uniquely schools are sitting on the precipice of learning from change … rather than the more usual stance of pushing for change to enhance learning. Future schooling is open to new ideas.
We are uncertain as to when things will return to 'normal' and this presents challenges for scheduling future events. However what is normal but also hugely exciting, is the great capacity that we have witnessed of our 'can-do' students and teachers for adapting and managing education activities through changing circumstances. This school year will be forever marked by the COVID pandemic; and it is our choice as to how we make this a positive learning experience.
Now back at school, we see girls really enjoying each other's company, and community activities vastly expanded at lunch breaks, and teachers expressing gratitude to their colleagues:
To all the swans from the Critical Incident Team, swimming gracefully across the pond – only they know how much paddling was done below. Thank you for showing us what was above and for all the effort below. Thanks for being supportive and understanding to all of us
You have built a great relationship with the Year 10 Council – they appreciate you as their advocate!
Thanks for keeping the Year 7s connected
Your students appreciated that you cut down on the work to ensure it was manageable
For a million and one phone calls and explaining things so patiently
For the awesome Kahootz during community time!
Thanks for calling just to see how I was going!
For always answering my silly questions without judgement
A big thank you for making the transition to online teaching/learning smooth. Great work
Your students really appreciated your great power points and class activities
For supporting the Year 9 Challenge program through organising engaging activities with external providers
For leading the Community time; for keeping the virtual community in the loop
To all for the zoom and phone convos!
For always willing to assist and collaborate at a moment's notice
For the debriefs and encouragement, prayers, blessings, activities and thoughtfulness

To everyone for staying the course
We have all 'stayed the course' over this term, so I congratulate our students, their teachers AND their families. We know that 'tis only the halfway mark for this school year, so let's agree to keep on working together, supporting and appreciating one another. Let's ensure that our COVID year of 2020 is loaded with positives, to become the best of our learning years!
We have experienced new levels of appreciation, gratefulness and excitement in each other's company. Let's keep these things going. Let's stay with appreciating what we have today… as we are more aware than ever, that tomorrow remains forever an unknown.
Writer Mary Oliver, suggests that gratefulness comes from appreciating the simple things more, especially needed now as we begin to emerge from the period of lockdown. She invites us through a simple prayer:
It doesn't have to be
the blue iris,
it could be weeds in a vacant lot,
or a few small stones;
just pay attention,
then patch a few words together
and don't try to make this elaborate,
this isn't a contest
but the doorway into thanks,
and a silence
in which another voice may speak. Mary Oliver.
Mary Fitz-Gerald
Principal