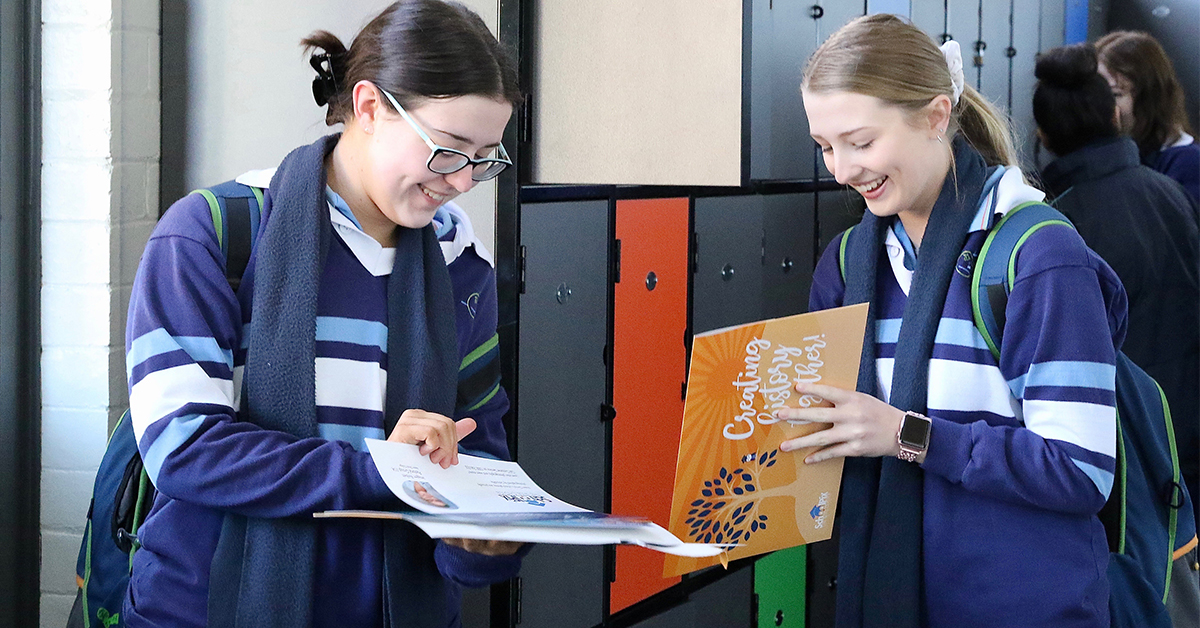 It was a crisp morning with the sun clearly on the rise as our VCE/VET & VCAL students, including some Year 10s doing higher studies, arrived at the College, mostly bright with energy and excitement.  While all were delighted with their new lockers and the treats within, it was predominantly the Year 12s who celebrated the loudest.  School jumpers and rugby tops were removed and hoodies, unexpectedly in their lockers, were worn and admired throughout the day.
And so our school community has changed again, just as quickly as it did on 15 April, from online classes and lockdown then, to active classroom teaching and social connections.
I wish to acknowledge and congratulate students on their efforts, parents, carers and family members for their support, and teachers and staff for their outstanding and generous work commitment over these past weeks.
While our Years 7-10 students are yet to return onsite, we know that life in school can never be the same.  Things will be measured as before and after COVID...which leads us all to ask, so what have we learnt?
From our students:
I think online school has taught me how to study which I like. I'm finding having everything in one spot makes things so much easier and I am also trying harder to do better in my subjects.

When we go back to school, we should keep the same schedule, finishing at 1:20 and then having lunch and the individual learning time.

The collaboration between everyone is really uplifting during this time.

Please don't make us go back to school and please keep the online timetable; it's helped my learning having shorter lessons as I keep my focus better.
Along with:
I want to see my friends 🥺🥺    I MISS MY FRIENDS 😭😭

I would just like to say I'm so impressed with how the teachers have completely come up with a whole new successful way of learning.

Thank goodness we get to go back to school soon :~). (I never thought I'd say THAT).

I think that the school is handling the situation very well, I am mostly enjoying online learning but can't wait to return to school.
It has been inspiring to witness the determination, energy, creativity and courage exhibited by so many students and their families during this period of learning from home.  In many respects, we are not surprised as across so many school activities, we witness daily the 'can do' energy of  students.  Many students have demonstrated new levels of resilience, strength of character, organisation and learning independence.
At the same time, it is true that not every student has experienced equivalent doses of joy or challenge; family circumstances and individual students' learning needs are varied as always.  However, there remains one important truth:  with student learning and wellbeing as our key focus, connections through regular communication as our goal and Mater Christi College staff collaborating as never before, we are better able to support and provide effective learning, wellbeing and socialisation experiences for students.
Of course we need to continue to place health and safety as a critical priority.  If unwell, staff and students need to stay or go home.  Hygiene practices are fully supported in our classrooms and workspaces.  All staff are being "supported to practice physical distancing, but physical distancing is not considered necessary between students in the school setting." (DET, May 2020)  However we are expecting students to respect and follow changed arrangements and avoid crowding and congestion as much as possible.
I wish to conclude with an excerpt from a teacher's post:
What if instead of 'falling behind', this group of lockdown kids are actually ahead?…

What if they have more empathy, enjoy family connection, can be more creative and entertain themselves, love to read, love to express themselves in writing?...

What if among these children, a great leader emerges who had the benefit of a slower pace and a simpler life to truly learn what really matters in life?  

What if they are ahead?
As a team of educators, we are looking forward to evaluating the unique learning experiences from our recent lockdown days.  The formal school curriculum has been mightily enhanced - by so much new informal learning where regular activities are done in new settings and different ways and  new activities and projects undertaken to extend skills and talents.   School is but one learning space and experience.  How it now relates to these others awaits our future imagining.  The future for school education has a new frontier inviting new explorers.
As we approach the feast of Pentecost, we give thanks for the many blessings from our 'time in iso', and pray that we are guided by the gifts of the Spirit to nourish the hearts, souls and minds of our students, as we continue to develop them to become 'women of faith who will participate actively and creatively in the affairs of society.' (College Mission Statement)
Mary Fitz-Gerald
Principal