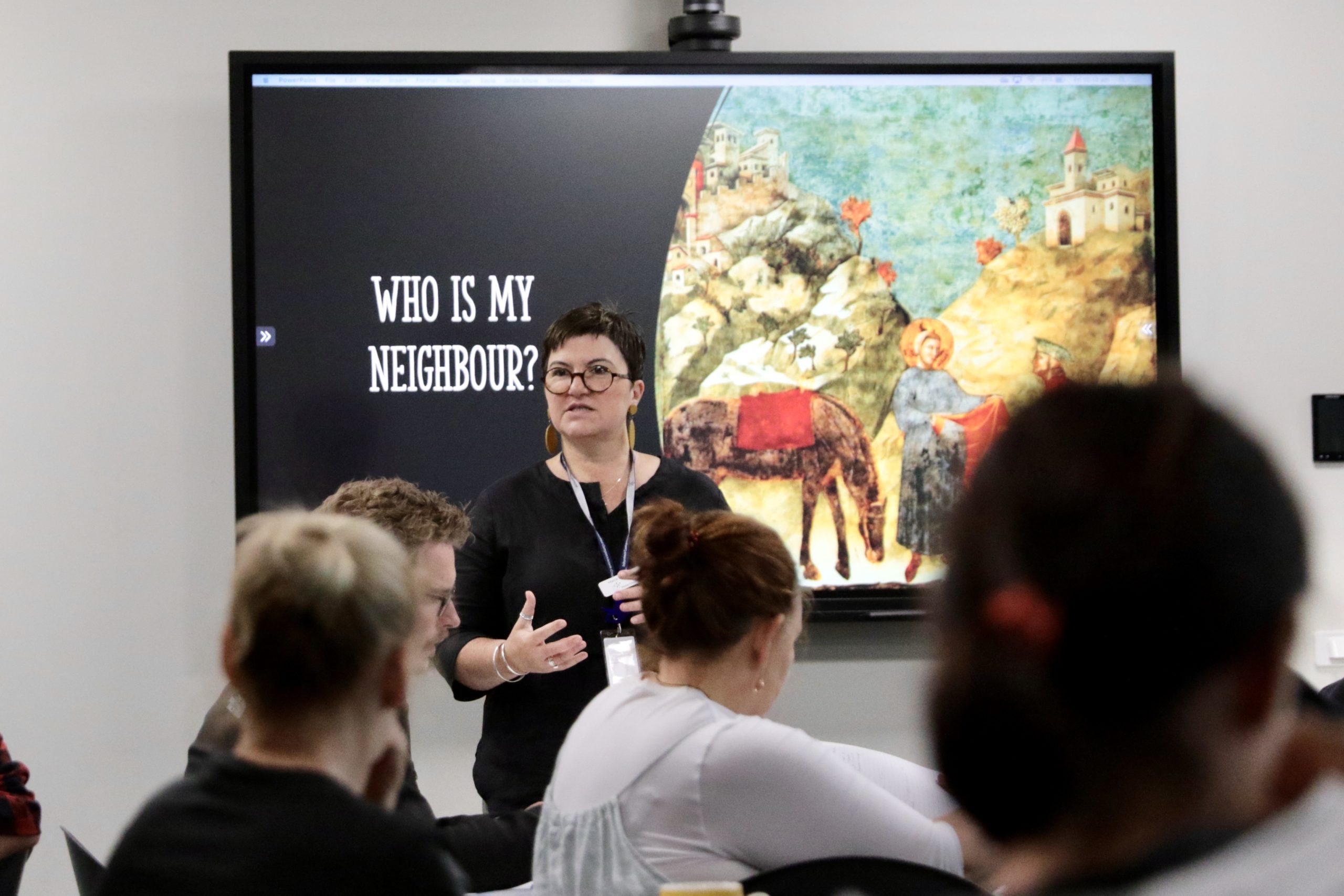 It is my great pleasure to have been welcomed wholeheartedly to Mater Christi these past few weeks. I have certainly felt the hand of Benedictine hospitality, so in turn I extend the warmest welcome to all new and returning students and their families to our thriving community.
We also welcome the following new staff to the Mater Christi College Community:
Ingrid Schmidt – Design Technology Teacher
Kate Saleeba – Science Teacher
Matthew van der Velden – Faith Development Leader
Doug Wright – Science and Mathematics Teacher
Cathy Wentworth - Admin Assistant
Madison Horkins - 2021 AFL Trainee
as well as returning staff member Nardia Trubridge.
This "school on the hill" has, since 1963, been a place of learning, connection and innovation. Our teachers and support staff have been busily preparing programs and resources, and I know they are keen to begin the year with the girls. Our Year 7s are taking part in an extensive transition program, while classes have begun for other Year levels.  I'm sure you will all join me in hoping that the year ahead is safe, disruption free and on-site!
It was inspiring to observe our 2021 student leaders preparing for their roles during last week's leadership formation. These students have accepted important responsibilities within our community and eagerly engaged in activities to grow their understanding of teamwork, resilience and public speaking.
We were also especially proud of the achievements of the Class of 2020. Following on from their outstanding results, close to 95% of applicants received offers for tertiary studies. This is a strong endorsement of the academic and personal growth programs of the College, enabling students to commence their career pathways.
Each year, we adopt a theme which underpins our reflections and our actions. This year the theme is "Who is my neighbour?".  The story of the Good Samaritan in the Gospel of Mark is the foundational story of our school, and we take seriously the command to love neighbour as self. On Friday the staff gathered to reflect on what we are doing and what we could continue to do as a community to enact this theme. It was wonderful to see staff so engaged and passionate about how we could work at a local level to have a global impact. I look forward to sharing with you some of the ideas and projects that we will put into place.
Upcoming - Middle School Parent Event
To support our partnership with families, we have invited Clinical Psychologist, Dr Judith Locke to speak with Middle School parents via a webinar. Year 8 and 9 parents may have previously attended presentations by Judith and know that her ideas are well researched, positive and practical. She will present strategies to help parents build more resilient and motivated children, better able to cope with the developmental changes of different ages and stages.
COVID Safe Plans
The College continually updates our COVID safe plans in accordance with advice from health authorities and the government. We ask that parents and students are familiar with and follow our COVID-safe Guidelines.
Of course, we have much to learn from remote learning and will spend some time this year reflecting on the positives of our 2020 experiences.  There may be some practices we retain and integrate into our programs.
A Child Safe School
At Mater Christi we are committed to the safety and wellbeing of each student in our care.  Every young woman who attends our school should have a trusted adult that she can turn to if she feels uncomfortable or unsafe. Our Heads of School, Marlo VanderZalm and Shae Mayes are our two Child Safety officers. In addition, 2021 will see the establishment of a Child Safe committee which will have at least one student representative from each Year level.  Child Safety is about more than minimising risk; we need to listen to the voices of young people and see the world from their point of view. We want to listen to learn how our school can be even better.
Emergency Management
During the course of the year, staff and students will take part in regular Emergency Management drills. While we love our beautiful surroundings, we understand the risks in extreme weather.  I encourage parents to become familiar with our Emergency Management procedures.
Thank you again to those who have welcomed me so warmly to this community. I look forward to all that lies ahead for our community in 2021.
Maria Haggett
Principal