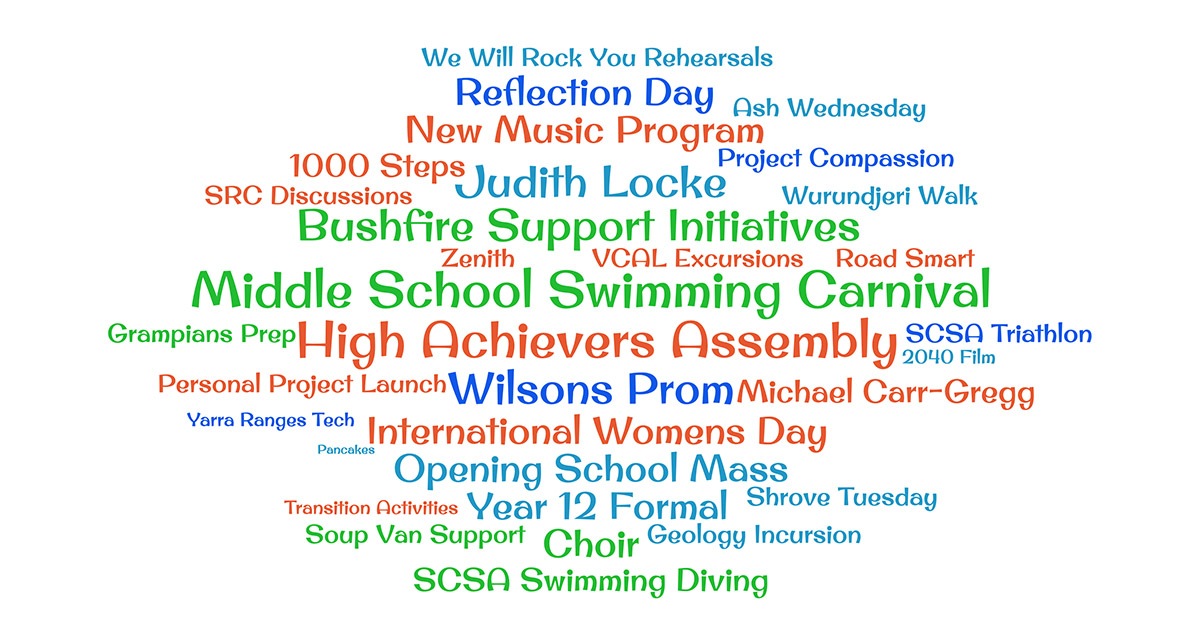 Here we are, already into the second half of first term, with students engaged in a myriad of learning experiences.
We are excited to 'let our light shine for others', as is already evident with the keen involvement of new leaders with ideas to support communities who suffered in the recent bushfires in addition to our commitment through Project Compassion to Caritas Australia.  Pancakes sold on Shrove Tuesday were a great hit, and kickstarted students' fundraising for Project Compassion, with Bushfire Relief Week activities in our final week of term.
Unfortunately several of our international students have not been able to return for the start of classes.  We have maintained regular communication with these students and their families, providing ongoing work and ensuring them of our support.  We are continuing to cooperate with government, health and education authorities in anticipation of their return to school, following a fortnight's quarantine. While we await advice in respect of other College travel plans, let's model calm and resilience so that informed and compassionate decisions can be made.
It was inspiring to be with many students, staff and locals attending last Saturday's film 2040 by environmental activist, Damon Gameau.  His climate message was one grounded in hope but sparked with urgency.  His five years of travel and research highlighted key projects for a healthier planet.  Local power grids, powering houses in some third world communities, is enabling families to buy and sell energy.  Driverless cars are emerging, with the potential for car-sharing, reducing traffic congestion and repurposing highways and carparks.   Of great significance were agricultural and marine regeneration projects which are improving food quality and diversity, reducing carbon emissions in food production or providing effective carbon collection strategies.
One important key strategy involves the growing commitment to provide education for girls, where sadly it still remains that over 60 million do not have access to schools.   As we celebrate International Women's Day this week, I am hoping that this empowers students at Mater Christi College to appreciate their own learning opportunities, especially as they prepare to become 'informed, compassionate and creative' adults.  As we share our Alumnae journeys, it is heartening to see the contributions being made by so many to create a fairer, more just society.  Most truly our students "are poised to make their mark and their contribution to a complex, ever-changing world".  (Faith, The Age, Sunday 1 March)
Finally, I am grateful for the many congratulatory messages following notice of my pending retirement after 20 years as Principal at the College.  However, please be assured, that just as I look forward to a new direction post December, there is still much to be done in the months ahead and I am looking forward to and remain totally committed to work for good leadership of the College.  I know that in active partnership, we will all continue to 'let our light shine for others'.
Mary Fitz-Gerald
Principal