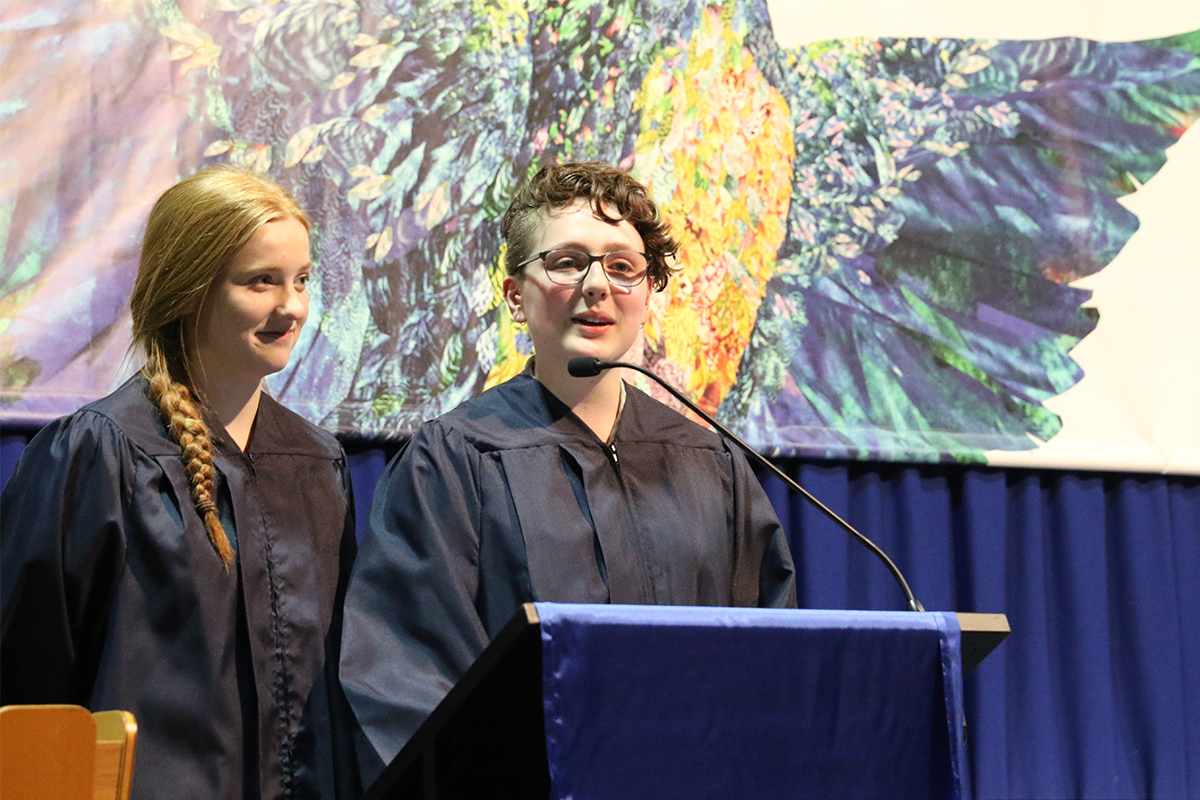 Our year together is flying by.  For some, this may mean that Christmas is but seven weeks away, while others may be amazed to realise that we are in week five of this final term, past the midway mark. The many significant events – farewells to Year 12s, welcomes to Year 7s of 2020, appointment of next year's student leaders, VCE exams, celebrations of sporting achievements, wishing our Victorian Young Leaders to China group safe travel, preparations for the final Year 9 Adventure Camp in the Grampians… tell it all; much is happening at this time for this school community!
I congratulate and thank students who have led the way across these various activities, especially those passing on their wisdom (and tips) to the next school generation.  This process of 'handing over the baton' is one well-established tradition, a practice surely sustainable over time.
However, when further considering sustainability in education terms, I was drawn to a recent discussion by Neil Selwyn, a distinguished research professor in the Faculty of Education at Monash University, who works in an Education Futures initiative.  His current article, "Retooling schools for an era of climate change" argues strongly for schools to model sustainability practices as well as ensure that curriculum content prepares students for their future, taking into proper account environmental factors.  Most significantly he states that
"Schools also need to educate young Australians how to engage democratically with environmental issues and debates, not least the capacity to participate in collective environment decision-making at local, national and global levels." (SMH, 3 November 2019)
While views abound around protest movements, of left versus right wing views, whether overseas or here in Australia, there is an increasing awareness that the future of democracy demands participation, information sharing and negotiation skills from all citizens… and that schools are in the best position for these to be taught, learnt and embedded.
Fr Chris Ford in his homily for the Year 12s Farewell Mass recognised the gift that we celebrate each day in our schools, young people as learners who are truly the salt of the earth. Young people are priceless for a good future for us all; "the balm of holiness generated by the good lives of so many young people can heal the wounds of the Church and the world. (Pope Francis, Christus Vivit #50). Like salt, they can bring out the best in all of us, preserving truth, adding flavour to life and providing hope in troubled times.  Similarly, St Benedict reminds communities to be sure to listen to the voices of the young.
Our Middle Years Program recognises the importance of creating knowledge and building skills of young people for lifelong learning and life itself.  Jennifer Cain, Head of Mater Christi Learning Commons expands further in her article, Creating Knowledge Building Skills, recently published in the Canadian School Libraries Journal.  She identifies how the Learning Commons (formerly known as the library) at Mater Christi is committed to providing
"challenging learning opportunities, accessible to all students, (to) create and share knowledge, and build skills in a participatory learning environment.
While it is always heartening to celebrate students' efforts in fund and awareness raising activities, it remains the strongest responsibility of teachers and parents to provide clear frameworks and values which support the common good of all.  We all know that in many instances, actions speak louder than words.  However I would contend that words used effectively, providing an ethical context for human interactions, are of vital importance to ensure an authentic and effective democracy.  When Jesus tells us in the parable of the good Samaritan, to 'go and do likewise', he is entreating us to look after others, with as much care and attention as we look after ourselves and our own interests.
So, as we grapple with changing times, social grievances and complex global issues, let's be grateful for our strong-minded, idealistic and enthusiastic students and pray:
May they continue to embrace future possibilities with faith and hope, inspired by our College motto to be Informed, Compassionate, Creative people.
May we, teachers and parents forge new paths in partnership with them, towards a more peaceful, loving, just and sustainable world.
May the God of love and goodness inspire all our hearts and minds to be agents of mercy and human kindness to all, above all.
This is certainly a prayer for all at Mater Christi College at this time and most especially for those leaving this year as they embark on unknown adult futures.
 Mary Fitz-Gerald, Principal