The 2017 VCAL students are building entrepreneurial skills and we are about to launch "Roar Espresso" as a part of VET Small Business. As the name suggests we have developed a coffee-based business. "Roar Espresso" will be selling cups of coffee at College events as well as having 200g and 1kg bags of coffee beans for sale.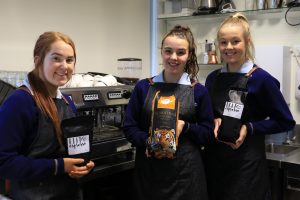 Our goal as a team is to generate profits to support two causes important to us, as well as putting money back into our budget to grow our business. We will be donating to Caritas to help with a food famine that is currently spread out across 7 countries. We will also be donating to the Sumatran Tiger Trust.
During the research and development stage we resolved many issues around product choice, packaging and labelling requirements, marketing strategies, sales and financial arrangements. 
As well as making the best coffee in Melbourne, we have sourced the most delicious and ethically produced coffee for you to try as well as use in your own home. 
Chloe Crumpton – Year 12