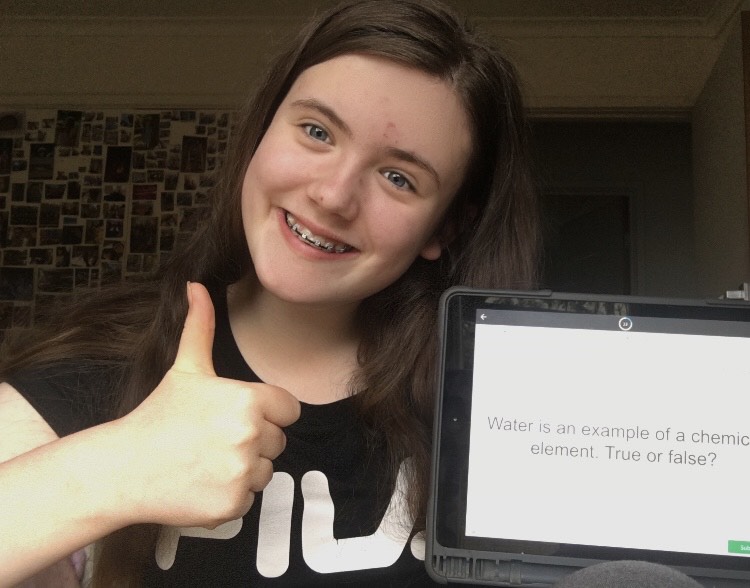 National Science Week was held across Australia from 15-23 August. Things were a little different this year due to remote learning, however the STEM Leaders and Science Team put on a great event throughout the week.
The theme for 2020 was "Deep Blue: Innovation for the future of our oceans". At Mater Christi, we focussed on this aspect of National Science week as well as having fun with the various planned activities.
Our Year 7 & 8 students had the opportunity to engage with a virtual performance from the Marine Team, which taught them about issues surrounding our oceans. It focused on ocean sustainability, how oceans impact our planet and what we can all do to help.
The Year 10 Mind and Body, Year 10 General Science and Year 11 Chemistry and Biology students were fortunate to have a biomedical scientist from the University of Melbourne attend their Zoom lesson. Students learned about the latest research and innovations currently being investigated and developed. They also had the opportunity to ask questions about various career pathways.
The 2020 STEM Cup was also held during Science Week, combining Science Week activities with STEM Hub challenges on Canvas. Students were able to earn points for their House by participating. Activities included daily quizzes, mini experiments, flying paper planes, stacking cards, a virtual scavenger hunt and more.
The Education Perfect Global Science Competition also ran throughout Science Week.  Students were encouraged to participate with points contributing to STEM Cup results. Mater Christi came 7th overall in Victoria (out of 288 schools) and 54th globally (out of 1874 schools).
Everyone was enthusiastic about Science Week and the STEM Cup. Both teachers and students got involved in the activities, testing their knowledge or doing the mini experiments.
The final results for the STEM Cup were as follows: 1st Gibbons: 1156 points, 2nd Chisholm: 1098 points, 3rd MacKillop: 1028 points and 4th Lyons: 878 points.
A huge thank you to the STEM Captains Shivangi Palliyil, Simone Martin and Alicia Petersen, as well as all the Science staff who got involved and organised activities. A special mention to Ms Kaitlyn Woods for her creativity in promoting the week.
The STEM Captains and Ms Laura Overdyk (Domain Leader Science)