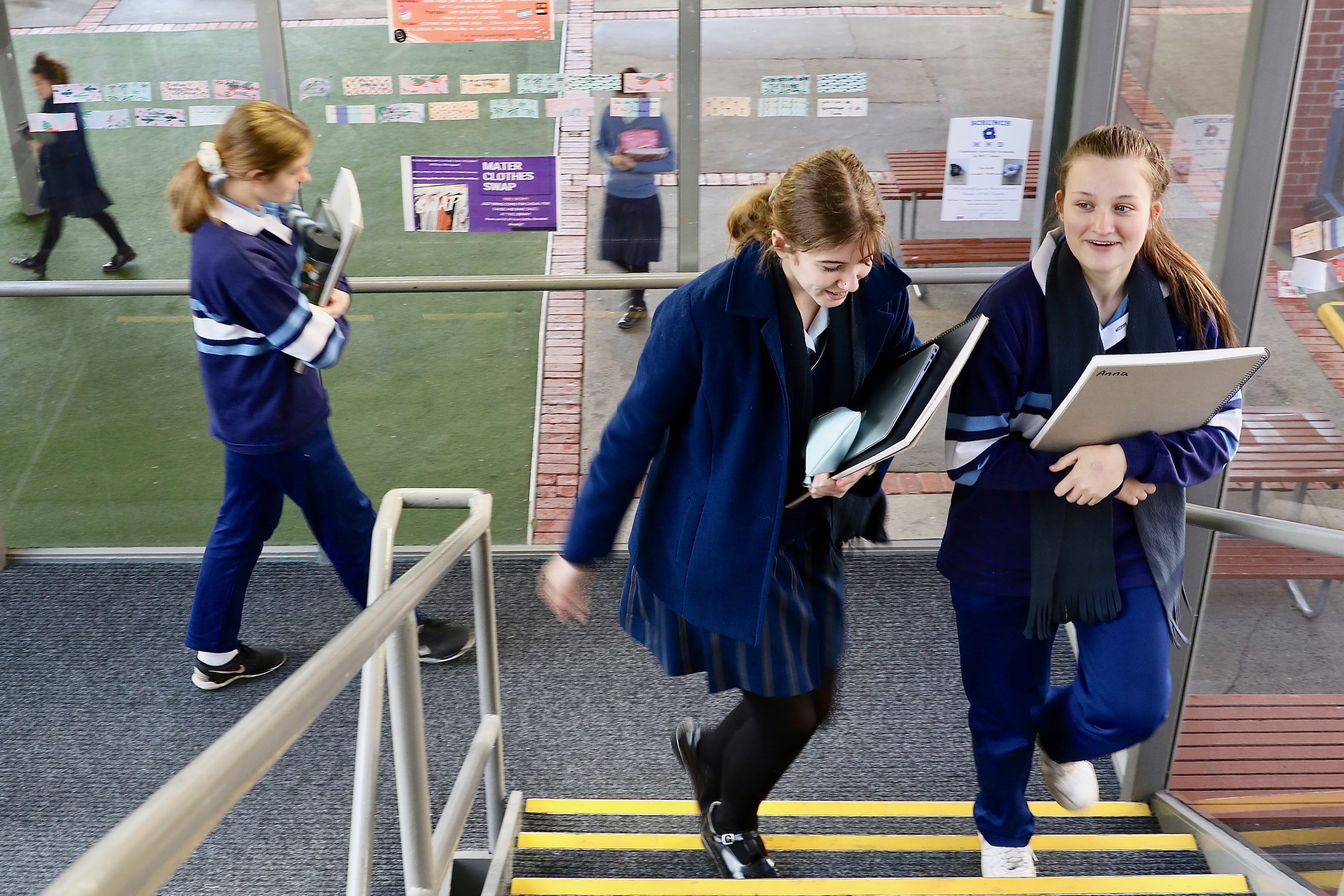 If you have read the stories and reflections of some of our recent graduates, you will have noticed a common theme. Most of the girls express gratitude for, and enjoyed, their participation in co-curricular activities. Building relationships across Year levels and sharing experiences create lasting memories and adds to the confidence and resilience of all who participate.
In addition to higher profile opportunities like the Production, International trips, Central Australia and snow trips, plus over 20 sports, there are many other opportunities for students and parents to consider. Below are just some of those activities.
GROUPS AND CLUBS
Running Club
An opportunity for students to improve their speed and fitness and meet new friends within our school community, with breakfast provided afterward. Running Club is available to anyone and everyone, no matter your fitness level.
When: 7.10am – every Tuesday and Thursday
Where: Tuesdays – meet at school and run to Belgrave football oval to complete a running session. Thursdays – in the HALL for a fitness session.
Art Club
Art Club invites students to simply enjoy producing Art. Students can create anything without constraints, rubrics or institutional rules. Available to anyone, Art Club offers those not currently studying Art, the opportunity to explore all that Art has to offer. For those who are studying Art, it allows extra time to further develop their projects.
When: Lunchtime, Day 5
Where: B204
SoJust Group
Social Justice Group welcomes any student from Years 7 to 12 who is interested in improving the state of the environment and the lives of people within it. Together they set an agenda and decide how best to support various charities that the College is involved with and to raise awareness and advocate for other pressing global issues.
When: Lunchtime, every Day 9
Where: B312
Write Club
Any student who enjoys creative writing can join Write Club to share ideas and practise their craft. Music, photos and discussion are used to generate ideas and from time to time workshops are held with professional writers.
When: Every Tuesday lunchtime.
Where: The Learning Commons
Book Club
Students who love to read meet to share their recommendations and gain a wider perspective.
When: Fortnightly on Thursdays.
Where: The Learning Commons
String Ensemble
Students of all playing abilities on violin, viola, cello, piano and guitar can come along and enjoy making music. A mix of classics, Irish, folk music and movie themes are played.
When: Every Tuesday lunchtime
Where: K101
ADDITIONAL SUPPORT
Maths Support
Open to students seeking additional teacher-led support, Maths Club allows time to clarify skills and concepts, complete homework, seek and complete enrichment work, and prepare for assessments and examinations.
When: Every Monday lunchtime
Where: B308 (Mathematics Task Centre)
Homework Club
Homework Club is open to students from Years 7 – 9 and offers teacher assistance with homework and assessment tasks. It provides valuable quiet time and space to assist with organisation and completing work.
When: Every Wednesday after school, 3.20 – 4.20pm
Where: Learning Commons
Tutors
Students of all Year levels can make bookings to see our in-College tutors for assistance with English. Tutors Cara Manion and Jen McAdam offer expertise in all English subjects including Literature and English Language and can assist with understanding Assessment Task requirements, essay planning and structure, vocabulary, expression/fluency, grammar and punctuation, time management skills and more.
Senior students can make bookings during study periods or with permission from their class teacher (during class time). Arrangements for students from younger Year levels can be made in consultation with their teachers and/or parents. Sessions are usually in half hour blocks; however alternative arrangements can be made by emailing the tutors directly.
When: As per individual arrangements
Where: As per individual arrangements
COMPETITIONS
There are a number of optional STEM related competitions throughout the year, including:
Royal Australian Chemical Institute (RACI) Crystal Competition: Year 7 students are growing their own crystal over an 8-week time frame using Potash Alum. They will then take an artistic photo to be submitted for judging.
Bridge Building Competition: Year 8 students are taking part in Aurecons Bridge Building Competition which involves using a set list of materials to design an innovative and strong bridge to be tested late in the Term at the Victorian testing site.
Amazing Spaghetti Machine Contest: Year 10 students with an interest in maths, science and engineering can represent Mater Christi in the University of Melbourne's Amazing Spaghetti Machine Contest. Teams are asked to build an overly complex device that performs a relatively simple task.