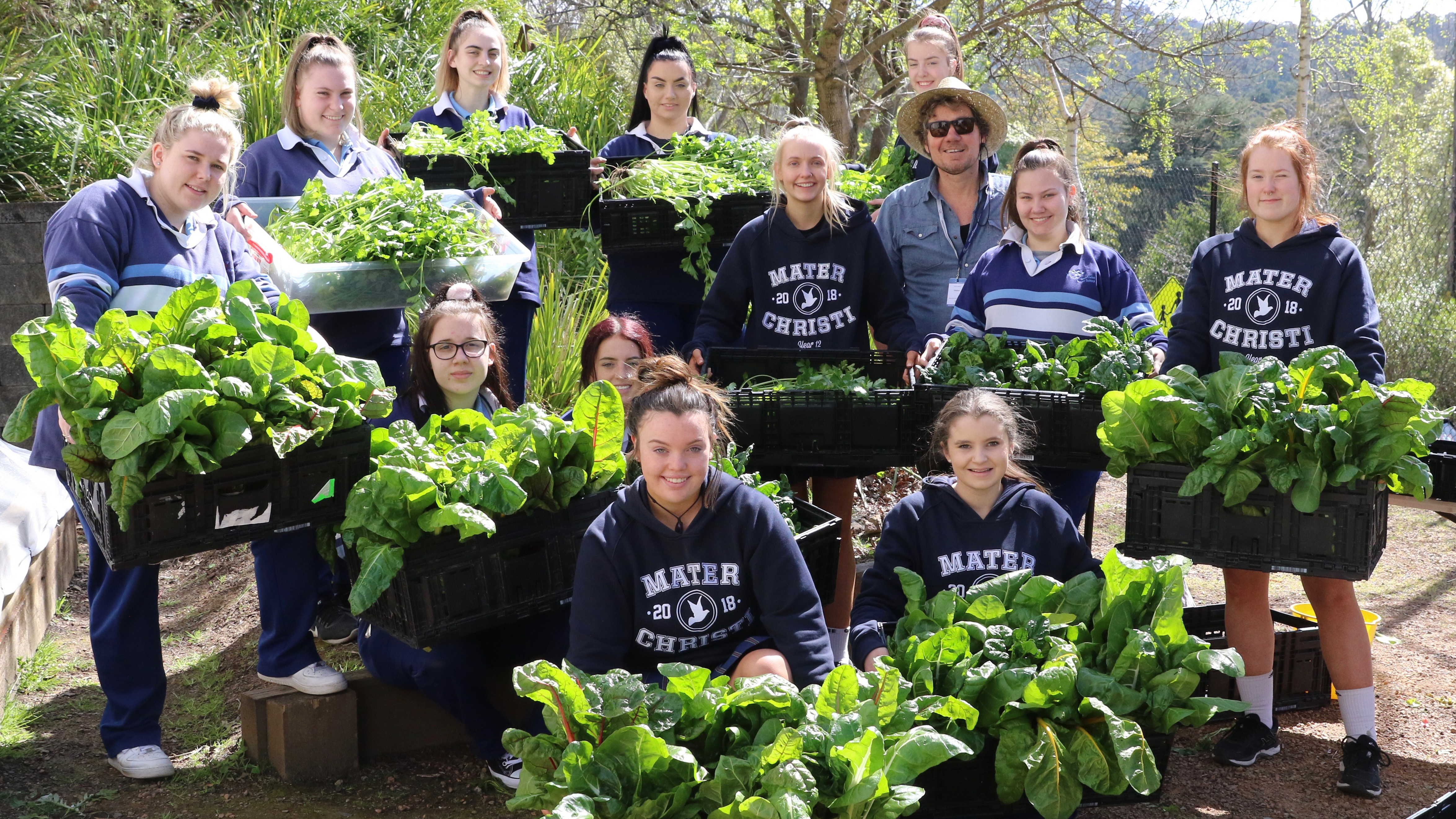 Our VCAL students made local news recently when they delivered 450 vegetables and herb plants to the Asylum Seekers Resource Centre.
Mater Christi College students engaged in real-world application of social justice through the school's Year 12 VCAL program.
Chris Saray from The Food Security Network worked with the Belgrave students to maintain garden beds filled with nutritious vegetables to help the Asylum Seeker Resource Centre (ASRC) to provide meals.
The organisation relies on community generosity.
Since April, students from Mater Christi have cultivated vegetables to help solve the largely hidden problem of food insecurity in asylum seeker communities.
In that time the students grew a hefty crop of spring onions, spinach, coriander, parsley and silver beet, which they delivered to the centre as a gesture of welcome and solidarity with refugees.
Mater Christi students Georgia and Amber said the project was extremely rewarding, especially upon seeing what the fresh vegetable meant to those who received it. 
"In VCAL we do a lot of community work and we knew about how some communities of asylum seekers don't get a lot of nutrition in their diet and often get canned food, and so we thought it'd be a really great to get nutritious food in their meals," Georgia said. 
"It was really rewarding seeing people at the centre and to see where it was going to and what it meant to those people.
"It was good to promote awareness of food security and its importance in the community."
The students worked in teams to maintain garden beds and learnt about PH levels in soil. 
Teacher Tim Crowe said they quickly developed an understanding that simple actions to support others built a strong community.
"Doing this project, it was simply a way to send a message to the support of the Asylum Seeking Resource Centre," Amber said.
Ranges Trader Mail, 21 September 2018