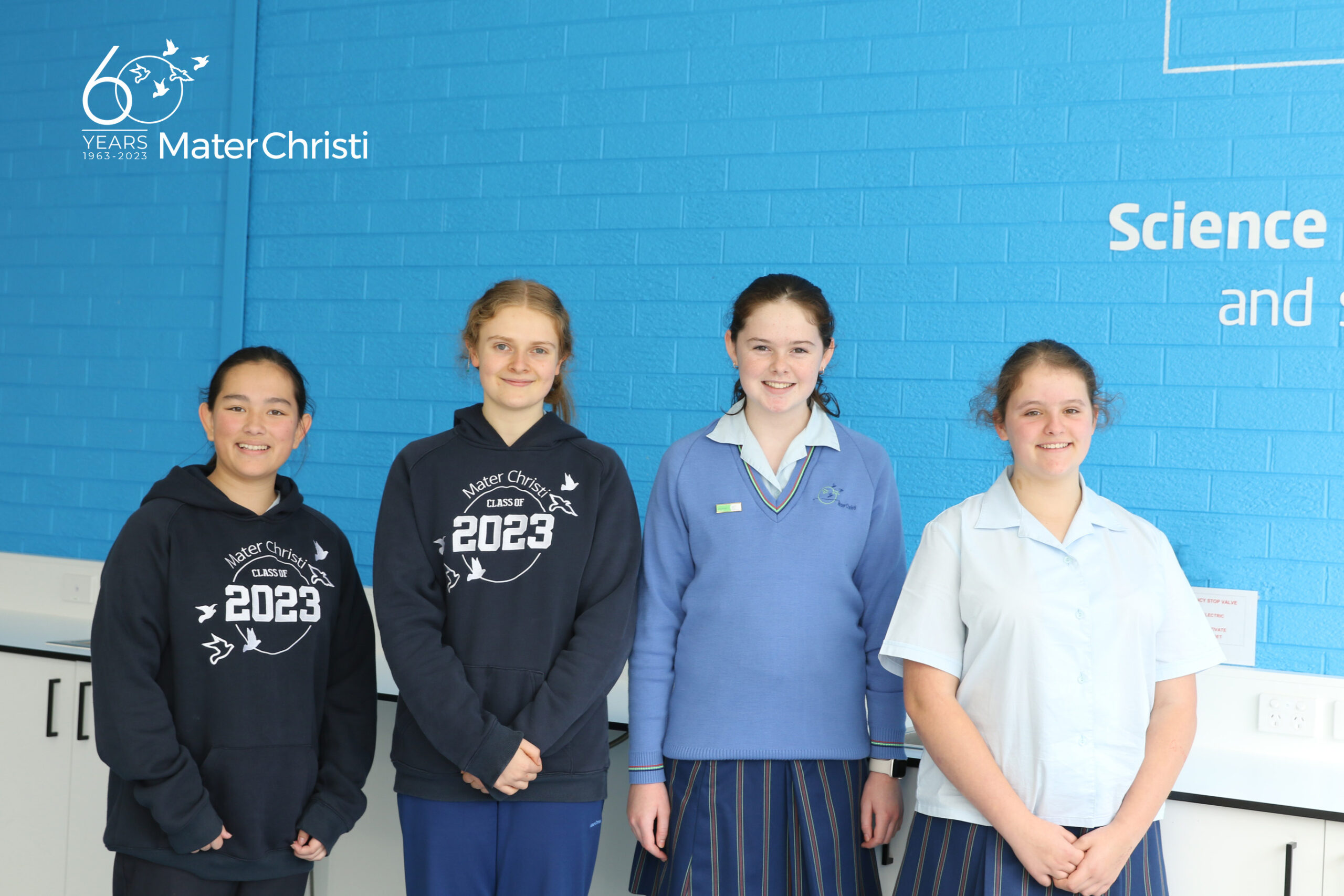 Gone are the days when STEM subjects and careers were primarily for men. Mater Christi students are exposed to a wide range of STEM-related subjects, from Year 7 through to Year 12, and many have their sights set on a career in the field.
Here, our 2023 STEM Captains share their passion for this area of study, their plans for the future and their desire to help others appreciate and enjoy all that STEM has to offer.
Simone, Willow, Emily and Kiara all enjoy solving problems and the way that STEM concepts and theories help them understand the world around them.
"STEM became one of my passions because I enjoy the challenge of solving problems and the satisfaction you get when you find solutions. STEM explains the world in such interesting ways" – Emily.
"I like the satisfaction of getting hard problems right. STEM subjects are hard, so doing well is even more rewarding" – Willow.
All agree that the problem-solving element of STEM subjects means they are relevant for all students, regardless of their future career plans.
"STEM subjects are very applicable to life. If you do Science and Maths in your later years of secondary school, you can go into almost any field of work" – Kiara.
"The main skill gained from STEM is problem-solving which is useful in any career or life path - whether you are a performer, a politician or a rocket scientist" – Simone.
Despite the enjoyment, all four students get from their STEM subjects, success doesn't always come easily for them, and each works hard to see results.
"I'm good at STEM, but that doesn't mean I find it easy. To get good results takes hard work and study" – Emily.
"Being passionate about a subject makes the learning curve a little easier, but you certainly have to work for good grades" – Willow.
Each Captain has established their own ways of approaching STEM subjects, to ensure they can grasp new concepts.
"STEM is like a series of puzzles; some are hard and confusing. I try to approach each puzzle, being prepared that I might get it wrong at first, and with the patience to persevere and learn" - Emily.
 "Approaching problems logically and applying multiple methods can make them easier to understand. There are often several ways to find a solution – which also makes STEM subjects fun" – Simone.
Looking to the future, all four students are aiming for STEM-related tertiary study and careers. Kiara is interested in mechanical and electrical engineering. Emily would like to study Biology at university and possibly become a Zoologist.
Simone hasn't settled on her end goal but is taking Chemistry and Specialist Maths, in Year 12, to keep her options for tertiary courses open and ensure she has the subjects she needs for a possible career in Engineering or Physics. While Willow knows she wants to study Medicine and become a Surgeon.
Together our Captains share a common goal for 2023; to get more students involved and to make STEM both fun and challenging for students of various skill levels.
"We would like to create some new and exciting STEM activities for students, which involve depth and creative thinking" – Simone.
"We are planning to refresh the STEM Cup this year, to make it more exciting and cater for different interests and abilities" – Kiara.
So, stay tuned, it looks like we can expect something for everyone this year!