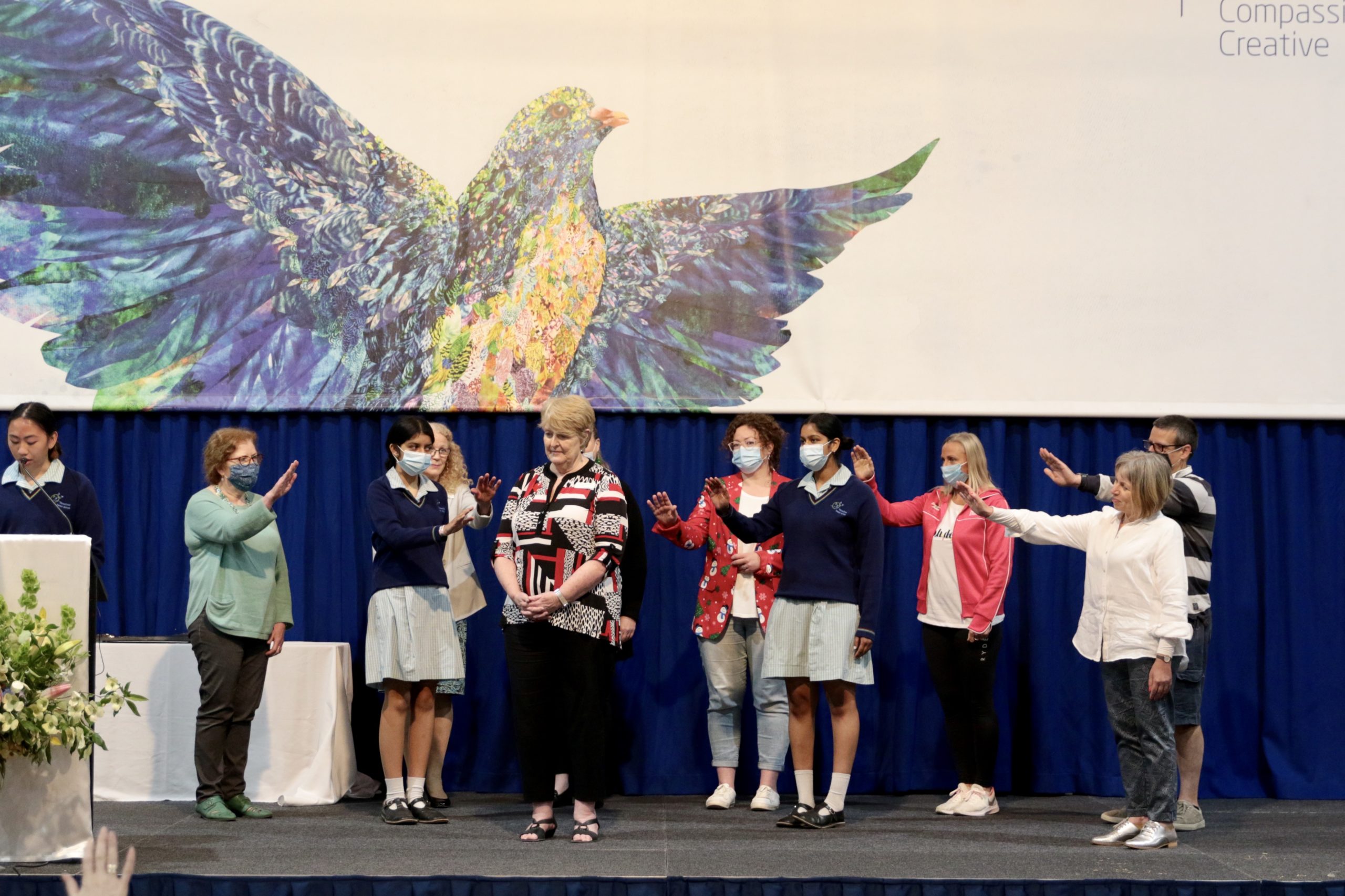 The final assembly for 2020 was also the final assembly for Mary Fitz-Gerald, after 20 years as Principal.
Students spoke with insight, humour and appreciation of Mary's leadership of our community and led a farewell blessing.
Below are some of the tributes from the students.
Blessing for Mary Fitz-Gerald

God of love and joy,

We thank you for the gift of Mary Fitz-Gerald here at Mater Christi.

As a Principal she was your voice and a light to us all, constantly reminding and challenging us to be informed, compassionate and creative women of faith. She has always called us to be like the Good Samaritan, to recognise a need and do something about it.

We will now pray a blessing, please extend your hand in a gesture of a blessing.

Loving God, bless Mrs Fitz-Gerald as she transitions from Mater Christi to retirement.  May the memories from Mater Christi continue to provide her with satisfaction and joy.

God of peace - Be with her when she feels sad. If she misses us too much remind her to check our Instagram and Facebook and she'll feel like she is still connected.

God of relationships - Bless her with joy as she spends more time with her grandchildren, family, and friends.

God of surprises - Bless her with renewed energy as she embarks on new adventures and pursues her interests.

God of the Good Samaritan – Continue to inspire her and bless her with peace, knowing that we will continue to strive to be informed, compassionate women of faith who engage in the world today.

God of Love - wrap your arms around Mrs Fitz-Gerald.

Amen.
Student Tributes
Mrs Fitz-Gerald, it's impossible to put into words the gratitude we as a community feel for your guidance throughout the past two decades, and for the ways the College has flourished under your service. Your enthusiasm and leadership in Catholic girls' education, is inspirational. It has instilled in us such appreciation for the opportunities we are offered at Mater Christi every single day and the supportive and empathetic community we are lucky enough to be part of.
If my calculations are correct, you've dedicated more than two million hours to the College, and in that time, you've seen generations of students grow from timid year sevens to confident young women, ready to take on the world after high school. We have been so lucky to have such a strong woman of faith as a role model in leadership, and it's been a source of inspiration for not only myself and Emma but no doubt so many others.
We are so appreciative of the compassion and commitment you have extended to every single family throughout your time as Principal. We wish you the absolute best in all your future endeavours, and we know the effects of your work at Mater Christi will resonate throughout the community long after you have left the College.
We hope you are looking forward to your future and spending time with your family and friends, and that you visit to see what we get up to! You've left some very big shoes to fill. So, from us and on behalf of the whole College, we wanted to say thank you, good luck and farewell.
On behalf of the College we would now like to present you with a gift.
This work was created by Jessie Journoud-Ryan. Some of you may know Jessie as our French tutor and she is also a practising artist.
---
I would like to thank you for your optimism, your leadership and your guidance. Thank you for inspiring us and helping us. Your support throughout the span of our schooling has truly impacted us as students and creative women of faith. And although, for us, it has only been two years, we cannot label these two years with a value or word; it has been unforgettable.
All you have done with your passion for teaching and empowering young minds is admirable and we will endeavour to walk in your footprints. Your actions have cultivated an atmosphere of Good Samaritan love at Mater Christi, a sense of belonging and community.
We wish you well for your future. And through everything and anything, may God be with you. And although no passage of words can describe all you have done; we just wanted to read you this quote from Mark 9:23 that we believe represents one of the many things you have taught our community.
"All things are possible with God." As all things have been possible through community.
Thank you and God bless.
---
Mrs Fitz-Gerald, you are not just a Principal to those you have led, you are a powerful, strong and inspirational woman. You have not just made decisions for the community; you are the community.
You haven't just led for 20 years, you lead young teenagers, who are going through puberty, struggling with relationships, having the WORST mood swings and growing up in a world of challenges, when anger and fear are sometimes the primary emotions.
You have transformed young girls into young adults, and no thank you could ever be enough for the hard work, love, and the incredible amount of patience that you put into this community.
Mater Christi College is not just a girls' high school on top of a hill at 28 Bayview Road, Belgrave. Mater Christi College is Mary Fitz-Gerald. You have been the heart, the mind, and the mitochondria, (also known as the powerhouse) of this cell and always will be. You are Mater Christi College.
Thank you and God bless.
---
We would like to say a few words of thanks on behalf of the Year 10s for your commitment throughout our high school years. Thank you for welcoming us into this beautiful community and for your continued dedication and passion for our learning. Since starting in Year 7 we have been inspired by your words of wisdom. At every assembly you leave us with a meaningful message, prompting us to reflect on and set goals towards being informed, compassionate and creative. Your leadership is inspirational, for you truly do take the time to listen to our voice, shining your light upon others.
"A truly great principal is hard to find, difficult to part with and impossible to forget". This quote resonates with us as a Year level as we really appreciate everything you have done for Mater Christi as a community. Your hard work and dedication will be impossible to forget as we will continue to be inspired by your efforts for the rest of our high school years. From sporting carnivals, colour runs to school productions, you have supported us all the way, no matter what! This year we have still been able to continue with our persistent work ethic as we've been guided through online learning and encouraged to make the most of these difficult times by staying positive and virtually working together. Although times have been challenging, we've still been able to become our best selves with your ongoing support.
Thank you, Mrs Fitz-Gerald. We wish you all the best for your future endeavours.
---
What can we say about you? You have been an incredible leader and Principal of Mater Christi College and an inspiration to young women within our community. Your enthusiastic and supportive attitudes, your positivity, and encouragement throughout this difficult year have helped us all be here today, finishing the toughest year we have ever had. Whether it is, through presenting a detailed speech or being involved in our community you have been there through thick and thin supporting our education and caring for us all on our way into our final year of school.
Over the past 5 years that we have known you, you have shown encouragement towards our education and provided the best opportunities to help us excel in our futures. You believe in all of us and support our next steps in life so we can strive to be our best. Thank you for all of your hard work and principles over the past 20 years that have influenced the school.
Good luck in all your future endeavours, and never forget to let your light shine for others.
---
On behalf of Year 9, we would like to say a big thank you to Mrs Fitz-Gerald for being such an amazing Principal. In honour of the wonderful 20 years you have been at Mater, we asked some of the Year 9s what their favourite things and qualities are about Mrs Fitz-Gerald, and wrote down the top 20 answers..
You have always been such an approachable person who we have consistently felt we could talk to about anything.
You are a very welcoming person and make us feel so comfortable within the Mater Christi community.
You are an incredibly kind-hearted person who has always had the best intentions for us Mater girls.
You are an optimistic and cheerful person.
You always encourage us to try our absolute hardest in everything we do, whilst getting involved and participating within the school community.
Every day, you inspire us with your wisdom and perseverance towards creating a safe and positive school environment for all.
You understand and recognise any problems and difficulties we may be facing and support us and our dreams.
When we were just about to begin our secondary school journey, you helped us feel excited about beginning high school and eager to begin a new chapter in our lives.
You are very devoted towards the Mater community.
There is always a happy and positive vibe when you are present.
Your generosity and kindness have positively influenced our attitudes within the community.
You are especially idealistic.
You make a strong impression and provide Mater Christi with an amazing example.
You know exactly how to have and hold a good and interesting conversation.
You are an extremely amazing role model and we have always loved looking up to you.
You have a very fun humorous side, always cracking that occasional joke at assemblies or within a conversation.
You're passionate about all you do at Mater Christi.
You're polite and well-mannered.
Your hardwork and consistent determination inspires us.
And finally, and most importantly, your respect for all students.
Once again, thank you for your hard work and consistent love for the Mater Christi community. The Year 9s are going to miss you so much, as will everyone else! We wish you nothing but happiness, and good luck for the future.