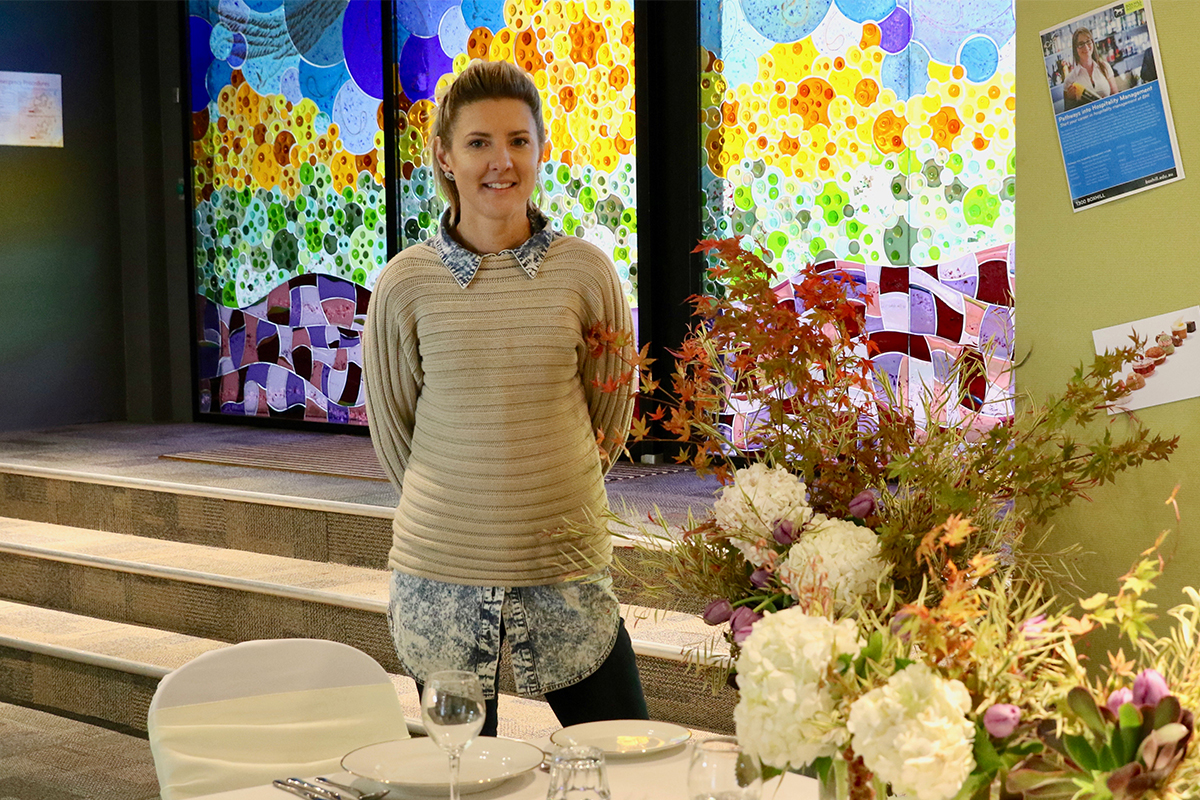 Amelia never imagined herself as a florist and still finds it strange being called one. Yet, she has her own floristry and styling business, worked closely with well-known floral artist and eco-warrior Joost Bakker and does property styling and event floristry for Stones of the Yarra Valley.
Amelia believes that the study options, support and guidance she received at Mater Christi helped her find her way to the career she loves.
Art was always my favourite subject at school. When I was asked in Year 9 what University course or career I was interested in, I had no idea… I just wanted to do all the Art.
Then when one of my teachers told me about the Diploma of Visual Merchandising at RMIT, I was sold.
I did Maths Methods as a Higher Study in Year 10 to enable me to squeeze in Visual Communication & Design, Studio Arts, PE along with the basics in VCE.
After completing Year 12, I studied full time at RMIT TAFE in Carlton and was lucky enough to be introduced to local florist, sustainability guru, grower and all-round creative, Joost Bakker.
While completing my Diploma, I worked casually with Joost on big projects, then eventually went full time when I finished my course.
I gained lots of practical skills and experience working with Joost - in events, farming, construction, design and of course creating beautiful things with flowers and foliage. I was also able to apply the skills I learned in my Visual Merchandising course, to my day to day work.
In 2013, my twin boys were born so I needed to stop working full time. I was keen to keep my hands in the workforce so I started a small styling and floristry business called Bunched Together, with my good friend Belinda. Bunched Together enabled me to be a mum by day and have a sideline into the creative world on the weekends.
Once the boys started school I took a part-time job at Stones of the Yarra Valley, doing property styling and flowers for weddings.
Bunched Together is still ticking along and gives me the opportunity to do weddings for close friends and family, events, exhibitions, home decorating, retail styling, photoshoots and more.
The best part of this kind of work is the fact that every day is different. When working with flowers and in the creative or events world, you have to think on your feet. People change their minds, flowers can die, things break, plans have to be altered on the spot and time is precious. I also love being out and about every day; mingling with people and being hands on.
My experience at Mater Christi definitely contributed to me finding my passion and career. I could very easily have finished school and gone straight to work or perhaps not have even completed VCE. Having lots of creative subjects to choose from, that extra push and exposure to an array of study and career options at Mater, really helped me find my way.