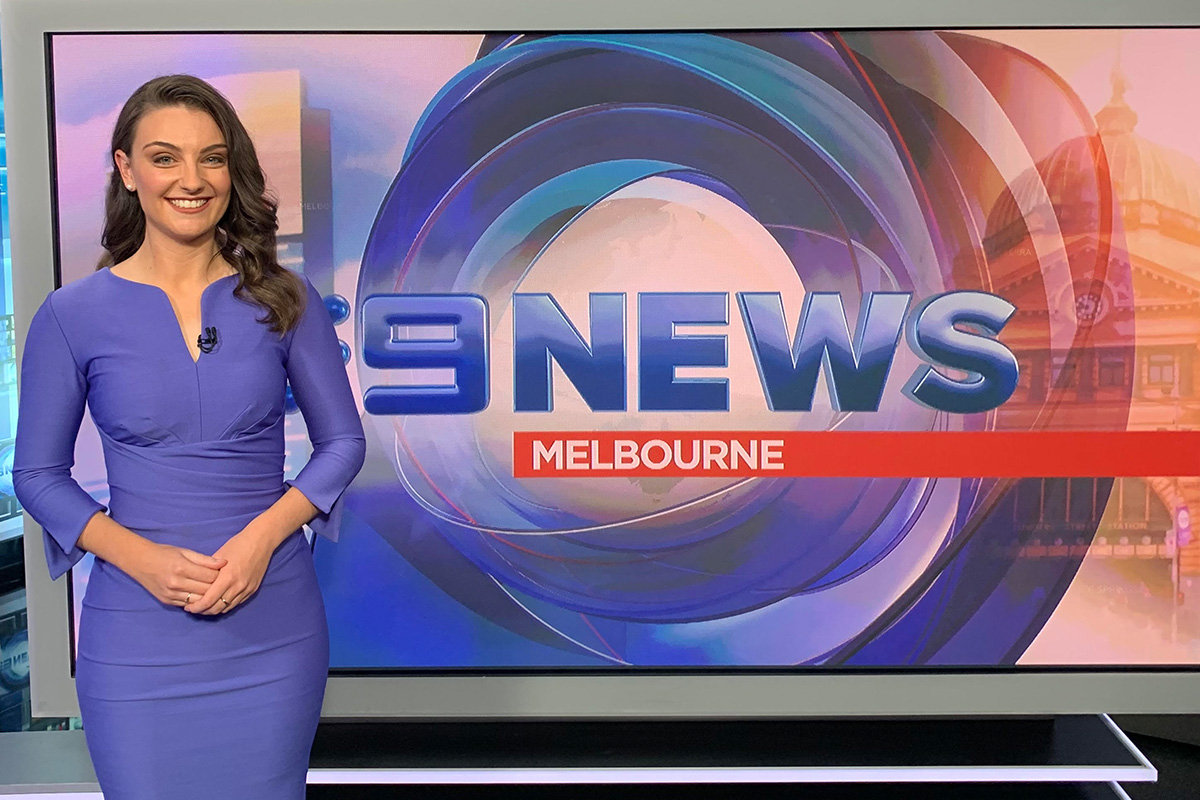 Emily White is a 'do-er'! She didn't shy away from subjects she found difficult at school, because she recognised their benefits. She travelled from Melbourne to Ballarat each week, for a four-hour shift as a radio journalist, just to show her enthusiasm. She told the News Director of WIN TV that she would 'literally work anywhere', for the opportunity to be a television reporter. There is no doubt, her 'can do' attitude has been the catalyst for an extremely successful journalism career so far.
Emily joined Mater Christi in Year 7, 2002. Initially quite a shy and reserved person, she says her confidence amongst her peers and teachers grew during her time at the College.
Despite wanting to be a journalist since she was nine years old, Emily was open minded and enjoyed subjects outside her main interests, including French and Maths Methods,. She found Maths Methods particularly difficult, but believes the experience shaped her in many ways.
After finishing Year 12, Emily took a gap year and travelled with a friend for six months.
"I knew I wanted to be a journalist – because I was curious and asked a lot of questions. And television journalism, in particular, intrigued me. My gap year was about having a bit of a brain break before getting into the next chapter of my education, rather than about deciding what was next".
Emily then studied a Bachelor of Journalism at Monash University for three years, and completed internships at the Herald Sun, ABC Ballarat and WIN TV Ballarat, in her final year.
She enjoyed trying different forms of journalism and eventually took on a casual job at ABC Ballarat, as a radio journalist, during her final months of university. She travelled back and forth every Sunday, for a four-hour shift, so they knew how enthusiastic she was.
After finishing university, she became aware of some new full time reporting opportunities at WIN TV, and knew she had to go for it.
"I went into the Ballarat newsroom on a Friday and told the News Director I would be willing to work anywhere, to become a reporter. By Monday, I was offered a job in Mildura and moved there a week later! I worked at WIN TV Mildura for four years and became Bureau Chief, when I was 23 years old."
After the Mildura bureau was closed in 2015, and many of her colleagues made redundant, Emily was transferred to WIN News Ballarat, where she became a Senior Journalist and Chief of Staff. Here she also had the opportunity to present news updates and the weather.
Then one day, out of the blue in late 2016, Emily got a call from Channel 9 which was starting its own regional news. She was offered a job as a Producer, based in Melbourne, which she accepted (not even knowing what a TV producer did), so she could be closer to her friends and family.
Since starting with Channel 9, Emily has enjoyed different roles, including Regional News Executive Producer, fill-in weather presenter and Line-Up Producer. She has filed stories and done interviews and been able to contribute to the different bulletins, in a range of ways, which she has found really rewarding.
Emily believes her social side makes her a strong communicator and her ability to stay calm under pressure means she is well suited to the journalism environment where things can change drastically throughout the day and there are tight deadlines.
The attraction of journalism for Emily is that it is different every day.
"In Journalism, you never know what will happen. I enjoy being able to deliver important information to people, which was particularly noticeable during the pandemic with constant changes to restrictions and the way people could live their lives. It's also an honour to hear and be able to tell people's stories."
Mater Christi was a great fit for Emily who says she 'thoroughly enjoyed' her time at the College. She also found work experience in Year 10 very valuable.
"I made great friends and loved the supportive environment, with teachers who cared about my progress. There were opportunities to try new things and tailor my pathway to suit my passions. Doing work experience at Channel 10, really gave me a proper insight into the industry and reinforced that TV journalism was something I wanted to pursue."
Emily's advice to current students at Mater is to trust yourself and your abilities, and the rest will follow.
"Hard work definitely pays off, but there are also so many pathways to get to where you want to be, so don't feel like you have to do things a certain way.
And say yes to new opportunities because you never know where they'll lead you."
---
Where are you now? Share your alumnae story with us.

We know there are many great stories to share. Send a photo and 150-200 words about studies, interests, career, adventures... to mcc@materchristi.edu.au OR forward this invitation to Mater Christi Alumna