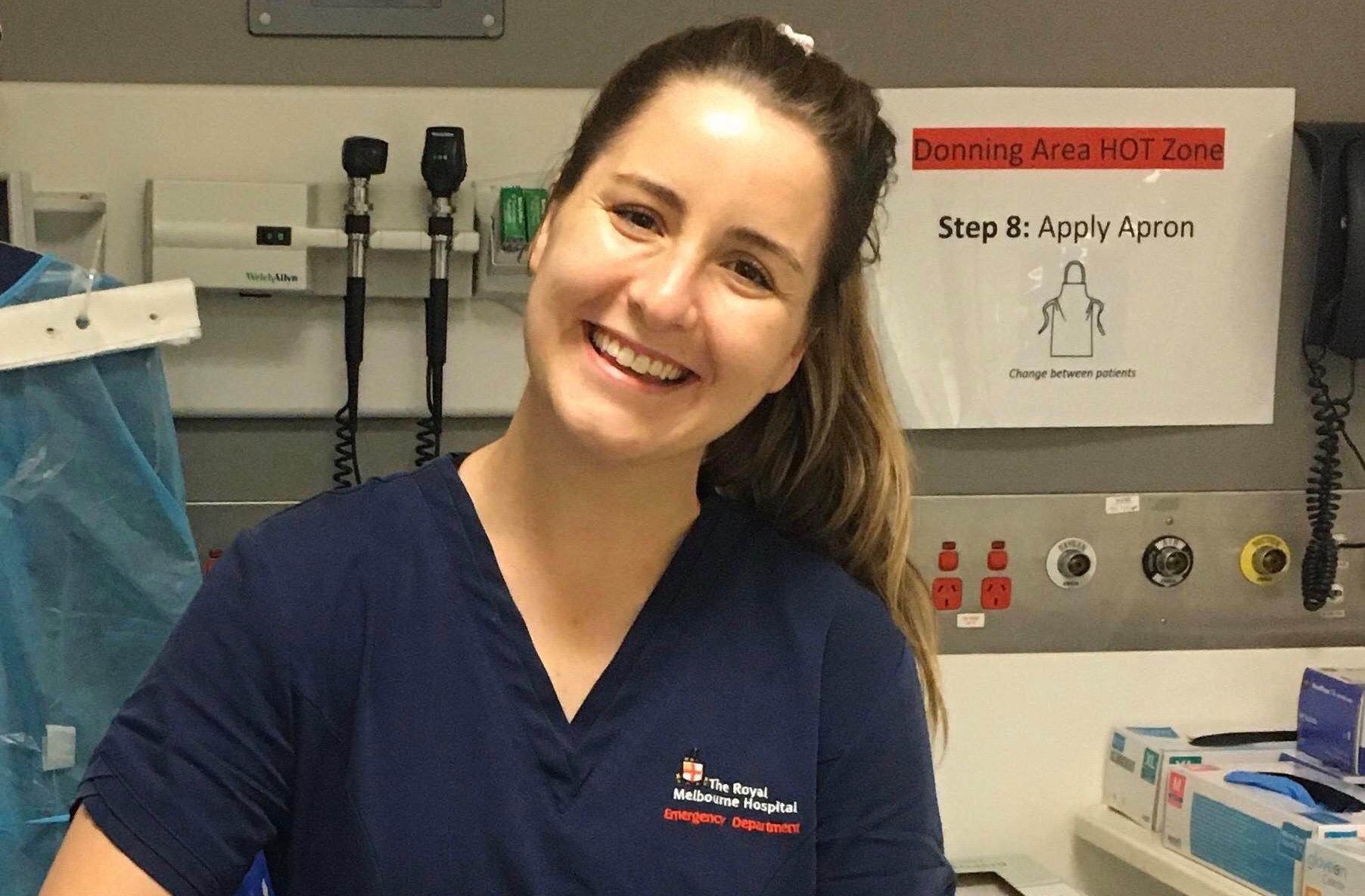 Emergency nurses are at the frontline of most medical emergencies, but Meg says nothing prepared her for COVID-19. She draws on some of the core values she learnt at Mater Christi and the courage and determination of her colleagues, to see her through these uncertain times. 
In Year 12, I was accepted into a Bachelor of Nursing, through the Australian Catholic University's Early Achievers Program. My graduate year took me to St Vincent's Public Hospital, where I found myself on a huge learning curve - an ideal start to my nursing career.  
I soon found my passion in emergency nursing and went on to complete a Postgraduate Certificate of Emergency Nursing with Melbourne University, while working in The Royal Melbourne Hospital Emergency Department.  
As one of the largest Emergency and Trauma centres in Victoria, we see a large cross section of the community, with a huge variety of presentations each day. However, nothing prepared us for COVID-19.  
During the first wave we watched the rapid spread and unfolding tragedy across the world, as we desperately started to prepare for what was potentially to come. Through such a frantic and uncertain time, I felt grounded by my core values, many of which I developed during my time at Mater Christi.  
The teamwork, courage and determination at work was met with support and humbling gratitude from the community.  
As this second wave has hit, we have seen many more positive COVID-19 cases and consequently faced some very challenging situations. Our Emergency Department was physically restructured overnight to create a 'COVID ED' and a 'normal ED' to keep our community as safe as possible. My colleagues and I have adapted to each change with positivity, faith and solidarity.  
I am part of a team of strong, intelligent and compassionate people and the camaraderie often reminds me of MCC. Throughout my time at school we were always empowered with the message that we could do anything, and this has been important in shaping who I am and what I do.  
I am proud to be a nurse and proud to be a Mater girl. 
---
Where are you now? Share your alumnae story with us.

We know there are many great stories to share. Send a photo and 150-200 words about studies, interests, career, adventures... to mcc@materchristi.edu.au OR forward this invitation to Mater Christi Alumna