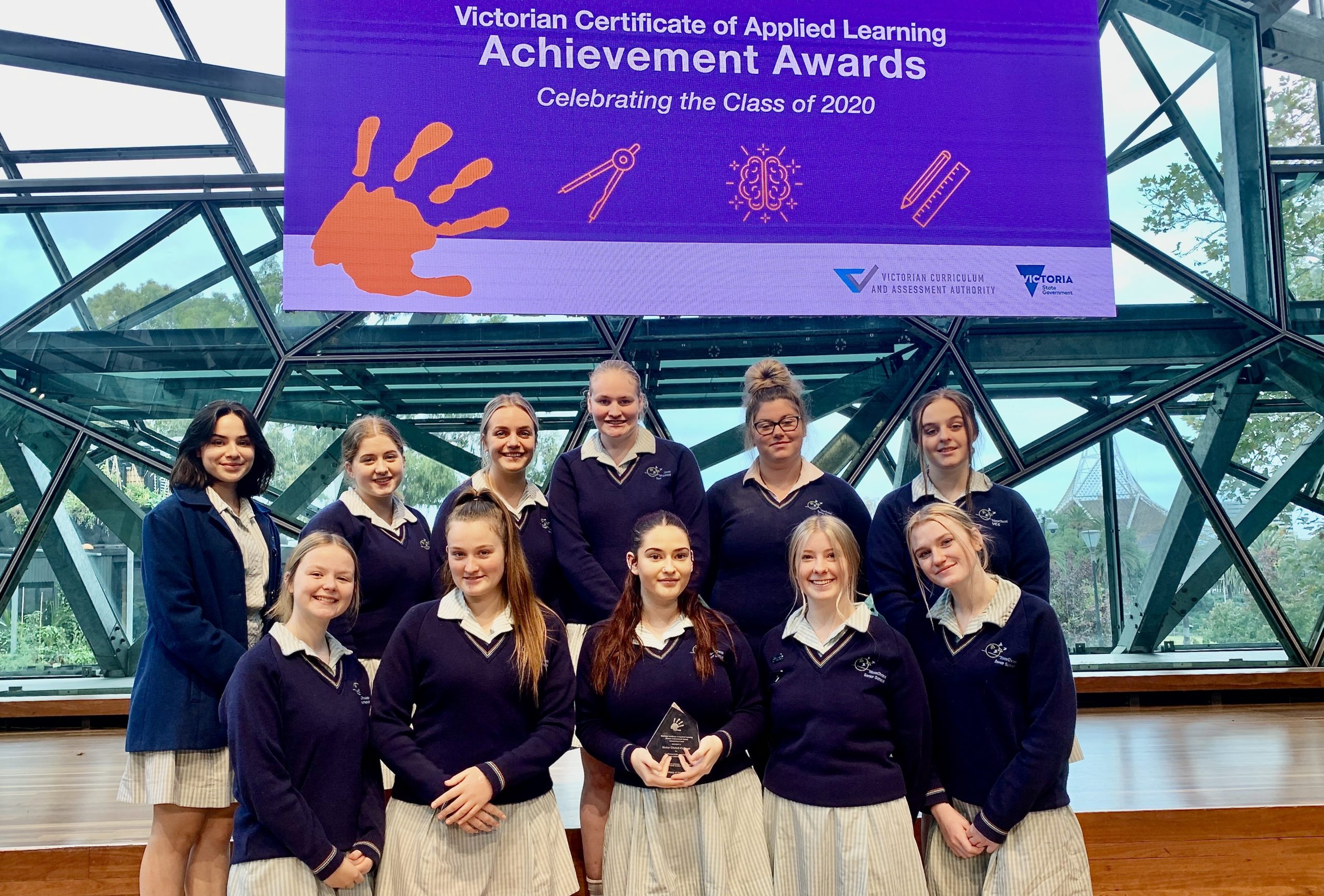 The hard work and commitment of our 2020 Intermediate VCAL students was recently recognised through the annual statewide VCAL Achievement Awards. These awards celebrate the outstanding achievements of young people around Victoria who participate in and complete a VCAL qualification, also acknowledging the exceptional efforts of committed teachers and community partners involved in the program.
The group received the Intermediate Team Achievement Award for their work with St Vincent de Paul (Vinnies), to raising awareness of poverty within our local community and providing support to the homeless.
After talking to a volunteer from Vinnies the students became aware of two issues facing the organisation; the need for nutritional dessert options to hand out to the homeless and the overuse of plastic bags when distributing items.
The students worked as a team throughout Term 1 and 2, producing healthy sweet products and sustainable recyclable bags to be used at Vinnies Soup Vans. They were also able to secure donated fabric for the project from retailer Spotlight.
Students considered a range of recipes based on suitability for transport from Belgrave to the city, as well as food products that would last longer than a day and did not have to be refrigerated.
As COVID-19 restrictions hit in Term 2, the students needed to re-evaluate the project as they were unable to continue donating food products to Vinnies. Working together, they decided to hold a bake sale within our school community to raise money for the purchase of food vouchers for Vinnies instead, setting a target of $500.
During this time the students also learnt how to make cloth face-masks and sold those to staff and members of the local community, using the money raised to add to the food vouchers. They also interviewed a teacher, Mr Sarris, who volunteers at the Soup Van in order to develop a deeper understanding of the need for community support in a broader sense.
Through this project, these students demonstrated leadership, communication, collaboration, initiative and problem-solving. They embraced the opportunity to work as a team to plan and deliver a project to help homelessness, gaining a better understanding of how this affects people in the local and broader community.
To conclude the project the students made a video about the work they did with Vinnies, to spread awareness about the issues of poverty and homelessness to the College community.
Being involved in the project and being recognised through the award has been a fantastic opportunity for growth for all the students involved. They are now more informed about an important social issue, have contributed to the solution in a meaningful way and have been left with a wonderful sense of achievement.
Sara Mugridge, Pathways Coordinator