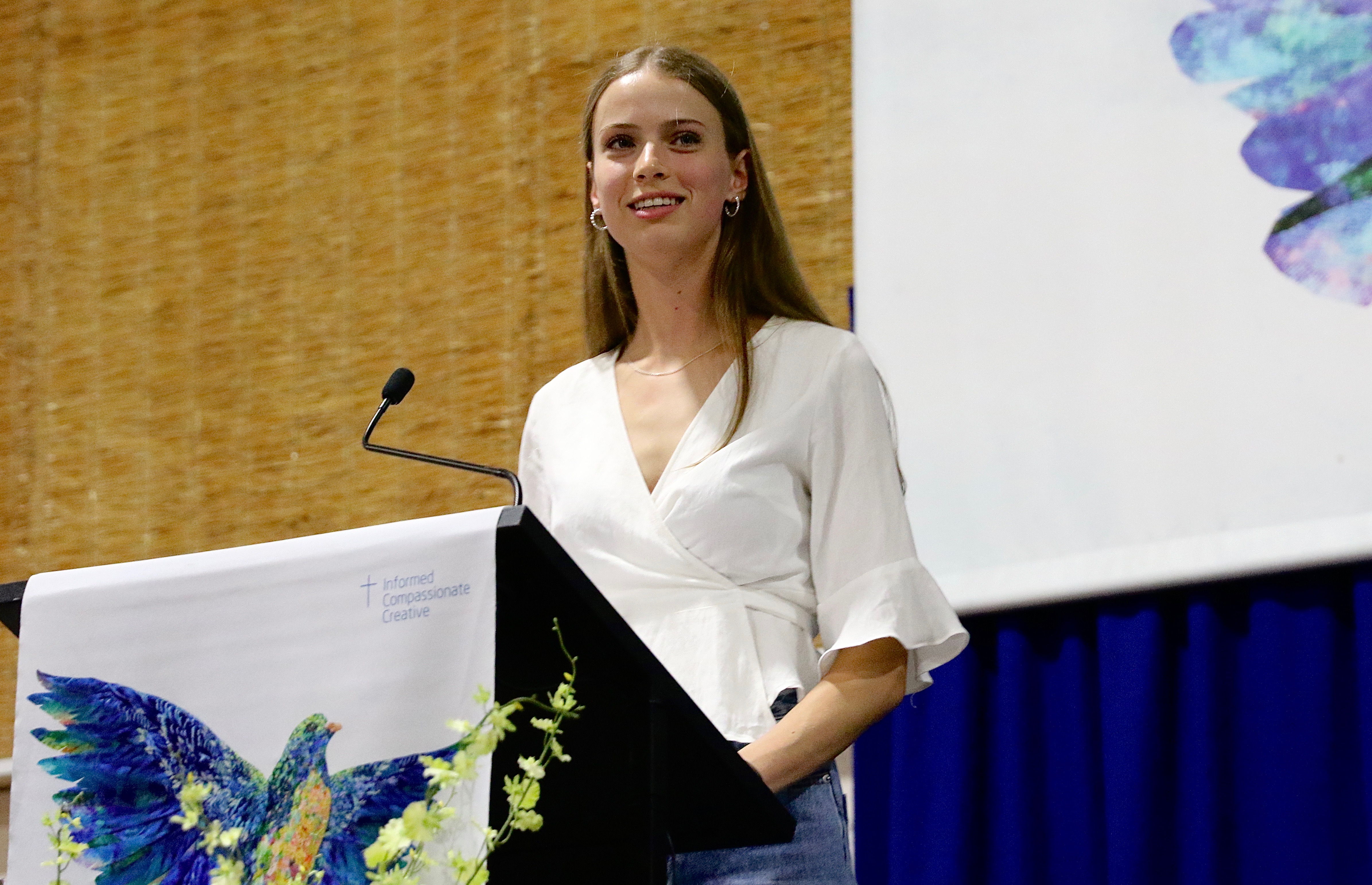 Our speaker at our High Achievers' Assembly was 2019 College Dux Jessica Taffe. Jess shared her reflections on what success really looks like in Year 12 and how to find balance in a busy school life..
My name is Jess and I'd like to start by saying a massive congratulations to my classmates, the class of 2019! All our hard work and hours spent studying was worth it, we made it!!
This year I will be going to university, as many of my peers have chosen to do, and I will be studying Science at Melbourne Uni. That may sound like I have the next few years of my life sorted out. However, if we were to rewind back to last year, I wouldn't have been able to stand up here and confidently tell you what I wanted my future to look like. I now know, this wasn't the end of the world.
Year 12 can be an incredibly daunting, but exciting experience at the beginning, as I'm sure the new Year 12s have already figured out. Even though you are being given a lot of advice, it can be really hard to sort through it and remember all this 'essential information on how to succeed'. Not every piece of advice or strategy you pick up will work for you, it is about finding out what does work for you and how you work best.
I think one of the most important things for me last year was keeping a balance between my school life and personal life, whilst also trying my hardest to do well. You need to ensure that in between all the studying and hard work, you make time to go out with your friends, relax, and essentially, have time for yourself. I found that this wasn't as impossible as it sounds with a bit of organisation and planning. It helped me to give my mind a rest and served as a de-stressor when I needed it most. Don't forget to take breaks from studying as it will not only help with your concentration and retention, but your mental wellbeing throughout the year.
The main thing I really want to emphasise today, is that no SAC score or ATAR defines how hard you worked or who you are as a person. It's okay to try your absolute guts out, and end up getting, whatever you deem as a 'bad score'.
It's okay if the person next to you understands something straight away, and it takes you 3 lessons, a few edrolo videos, and some one-on-one time with your teacher, to understand. Everyone is different, and there's no point wasting your energy worrying about how other people are doing, as it's out of your control. Sometimes it is okay to fail, and it is okay to feel overwhelmed. It's not about how hard you fall if you do, but how you pick yourself back up. This will be infinitely more valuable than that SAC grade you wanted
For those in Years 7 – 11, now is the time to make the most of all the opportunities you are given, and be persistent in your learning and personal journey. The habits you form now will help you in Year 12 more than you realise. It's never too early to start making little changes to your study habits to set yourself on the right path.
I'd also like to quickly thank and acknowledge all my teachers from last year, for all your effort and willingness to answer every single one of my questions, and all your constant support.
I wish the class of 2020 good luck this year, as well as commend the class of 2019 again for achieving everything you did last year, and the effort you put in to help you get there.
Jessica Taffe
College Dux 2019